---
Dunhuang Travel Guide
---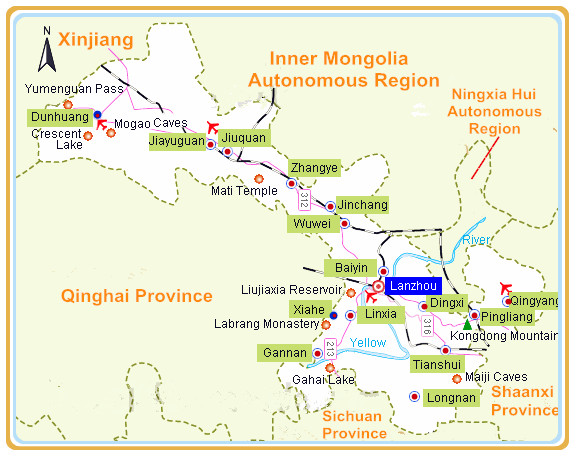 Dunhuang City, one of the most important stop-off cities on China Silk Road Tour, is located in the northwest of Gansu Province. Dunhuang is also known as the "City of Sands" or "Shazhou" (sandbank) due to its long expanses of sand dunes and golden shiny houses. The city flourishes with many historical and touristy sites that invite every traveler to escapism and respect, in a place where one can even wonder if we are still in China.
Dunhuang Facts
Chinese Name:敦煌 (dûn húang)
Area: 31,200 square kilometers (12,046.4 square miles)
Population: about 180,000
Area Code: 0937
Zip Code: 736200
Nationalities: Han, Hui, Mongolian, Tibet, Uygur, Miao, Man, Tujia, Kazakh, Dongxiang, Yugu
---
History Of Dunhuang
The city of Dunhuang was built in 121 BC, after Chinese defeated the Xiongnu (confederation of nomadic tribes from Central Asia) in great number at this time in the region. With the arrival of the Han and Tang dynasties, the city started to get its full importance by becoming a pivotal hub of communication in the west part of the Hexi Corridor (also called Gansu Corridor) and the Gobi Desert, famous for being the most important route used by traders and military units in ancient times. Major gate to the Central Plains of mainland China, Dunhuang welcomed the arrival of Buddhist monks and priests who built many temples and churches as well as painted mural masterpieces all of Indian inspiration. Today, remnants of this past are still at the disposal of travelers' sight in the Mogao Caves or "Caves of the Thousand Buddhas".Dunhuang is a major Silk Road camel caravans' stop in ancient times and is inevitably filled with lots of historical and cultural relics waiting for you to be discovered.Enriched by this great ancient past, the city of Dunhuang is since then home to many national minorities as well as foreigners coming from Iran and India, making Dunhuang a prosperous metropolis bustling with activities.
---
What to see in Dunhuang?
Dunhuang is China's famous historical and cultural city. It has a long history and splendid culture. Since ancient times, it had become the traffic hub of ancient Silk Road. Also, it is the world famous Buddhist art resort. With its peculiar and abundant tourism resources and historical opportunity for development, Dunhuang has become the leading of the development of the tourism industry in Gansu Province.
---
When to visit Dunhuang?
Enjoying a continental desert climate in temperate zone, Dunhuang is dry and seldom rainy throughout the year. The winter is chilly and summer is hot, the spring is arid. Wind blowing with sands often happens in spring and autumn. Temperature difference varies greatly during a day. It has slim rainfall during the whole year, mainly falling during July to October. May to October is the best season to visit...More
---
How to get to Dunhuang?
As a popular tourism city famous for its abundant cultural relics, transportation in the city is still important to those who are eager to experience its magnificent sights. Passengers can get to there by air, train and long distance bus.Dunhuang is located at the western end of Hexi Corridor in Gansu Province in northwest of China. It is 2000 kilometers west of Beijing, right on the silk road that caravans would take to get from China to the Middle East. It is a small oasis surrounded by high mountain, deserts and the Gobi Desert with Dang River as the city's water supply.In ancient times, Dunhuang was an important city on the Silk Road. At that time, transportation was of great importance since it connected China with the west in both business and culture.It has opened flights to and from Beijing, Xian, Lanzhou, Urumqi and Dunhuang. It is half hour's drive from Jiayuguan to Jiuquan and about six hours' drive to Dunhuang. Additionally, Dunhuang Airport is another important airport in this area...More
---
Dunhuang Travel Tips
Bank of
China
(Dunhuang Branch): Foreign exchange is available.
Address: 1/F, Zhongyuan Hotel, in Yangguan Road (Middle)
China
Post Office
Address: No.1, Yangguan Road (Middle)
People's Hospital: 0937-8822137
Address: No.20, East Street
Traditional Chinese Medicine Hospital: 0937-8822396
Address: No.6, Shazhou Road (South),Dunhuang City
---