---
Dual nationality
---
Dual nationality is a way that allows a citizen to have two nationalities of both his motherland and another country at the same time. Many countries and regions in the world admit and respect it, including the United States, United Kingdom, France, Canada and Australia. Most countries do not think that a citizen will lose his nationality of his homeland if he succeeds in gaining another country's nationality.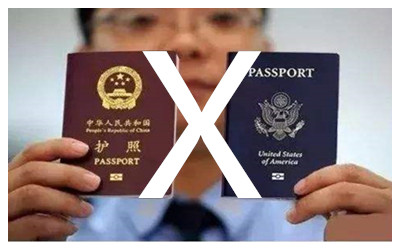 China does not recognize dual nationality. The Article 3 of China Nationality Law holds that the country will not admit the dual nationality of a Chinese citizen. Moreover, the Article 9 of that law declares that as soon as a Chinese takes a foreign citizenship, he will automatically lose his Chinese citizenship.
There are mainly two reasons to set up a nationality regulation that is totally different from that of many other countries in the world.

First, Chinese Nationality Law has its special historical background. After 1949, many doubts and troubles were caused in some countries especially those in Southeast Asia by a lot of overseas Chinese with dual citizenship. It was a misunderstanding but did harm to the ties between China and some countries.
Second, unique nationality is in consideration of the loyalty of a citizen to his country and the administration of citizens. And it is easier for precise judgment in law cases.
Anyone having any of the following characteristics is regarded as a citizen of China:
1. Persons belonging to any of the nationalities in China;
2. Any person born in China whose parents are both Chinese nationals or one of whose parents is a Chinese national;
3. Any person born abroad whose parents are both Chinese nationals, or one parent who is a Chinese national;
4. Any person born in China whose parents are stateless, or of uncertain nationality, and have settled in China.

To be honest, it is quite hard to apply for a Chinese citizenship. However, if you want to stay in China for a long time, you can try to apply for an Aliens' Permanent Residence.
---