---
Xinjiang Transportation
---
Xinjiang, bordering Central Asia, is strategically positioned as the country's transport hub on the Silk Road Economic Belt.Situated in the northwestern border area of China, Xinjiang Uygur Autonomous Region covers nearly l/6 of the total area of China. It borders on Mongolia, Russia, Kazakhstan, Kyrgyzstan. Tajikistan, Pakistan and adjoins Gansu, Qinghai and Tibet Autonomous Region.
In ancient times,Xinjiang was a part of the West Regions, where the world-famous Silk Road of the Han and Tan Dynasties passed through.
---
By Air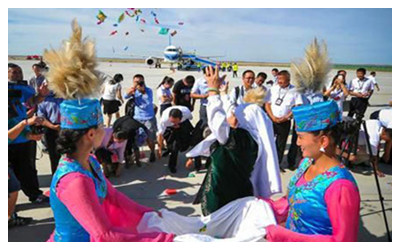 Xinjiang has 12 civil airports, including 2 major international airports in Urumqi and Kashgar, and other airports in Yining, Altai, Tacheng, Karamay, Hotan, Arksu and Korla. 92 air routes have been opened, with Urumqi at the center, reaching all parts of Xinjiang, connecting Xinjiang to 62 major cities in China, and to 19 cities of 15 countries in Central Asia, the Middle East and Russia, linking Urumqi with 12 prefectures, autonomous prefectures and cities in Xinjiang.
Women of the Kazakh ethnicity dressed in traditional costumes greet the first flight to land at the Koktokay Airport in Fuyun County in northwest China's Xinjiang Uygur Autonomous Region on August 1, 2015.
The total length of civil air routes has come to 119,500 km. With such many airports and so long air routes, Xinjiang has become a region of China with the most airports and the longest air route. In 2005, 3.39 million people travel by air and 30,000 tons of goods were transported by air.
---
By Train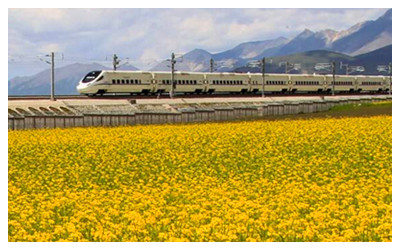 Three railway lines have been completed in Xinjiang Province. Lanzhou-Urumqi Railway ( Lanxin Railway)-1892 kilometers long; South Xinjiang (Turpan-Ku'erle-Kashgar) Railway:1446 kilometers; Western section of Lanxin Railway (Urumqi-la Mountain Exit) of 460 kilometers.
Lanzhou - Xinjiang High Speed Railway, with 1,776km to link Lanzhou city of Gansu province and Urumqi of Xinjiang Uygur autonomous region, is the first high-speed railway in Xinjiang. Its operation has cut the duration from 16 hours to 11 hours. Traveling on the bullet train, passengers will enjoy a number of beautiful sceneries of northwest China.
Major Stations: Lanzhou West, Xining, Zhangye West, Jiayuguan South, Kumul (Hami), Turpan North, Urumqi
South Xinjiang (Turpan-Ku'erle-Kashgar) Railway- Although Kashgar is an important trading center on Silk Road, up to now, direct rail connection from Kashgar is very limited to other cities out of Xinjiang. Thus, Urumqi plays an irreplaceable role in connecting Kashgar with other cities of China.
Western section of Lanxin Railway (Urumqi-la Mountain Exit)
It is the western section of Lanxin Railway that connects China with the European Continent, constituting a key transportation line from Lianyungang Port of Jiangsu Province in the east to Rotterdam in Holland in the west, largely promoting the economic and trade communication as well as international tourism development between Xinjiang and countries in the Commonwealth of Independent States, East Europe, West Europe, and Middle East.
---
By Bus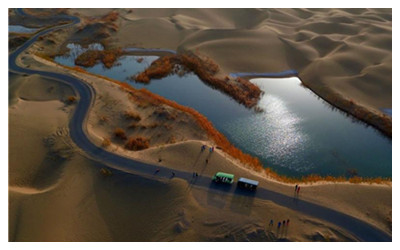 Xinjiang is also easilly accessible by overland travel with many expessways or highways connecting domestic cities and bordering countries. The rail link is obviously the cheap and easy transportation heading back to mainland China through Gansu.
Traveling around Xinjiang by flight can save your time. Most of the flights go through Urumqi with the main airports in Hotan, Yining, Kashgar, Korla and Aksu. Now rail lines go from Urumqi to Yining, Kashgar, Korla and Hotan. Travel overland is the most popular travel mode to go around Xinjiang, which boasts many high-quality highways and expressways linking Northern Xinjiang and Southern Xinjiang.
---