---
Xinjiang Travel Guide
---
Xinjiang Uygur Autonomous Region is locates in the northwest of China. With an area of 1,650,257 square kilometers, it is a large, sparsely populated area which takes up about one sixth of the country's territory. In ancient times, the Silk Road passed through the region. Xinjiang is adjacent to Gansu, Qinghai Province on the east and Tibet on the south. Besides, the neighboring countries have Tajikistan, Kazakhstan, and Kyrgyzstan on the west and north, by the Republic of Mongolia on the northeast, and by Pakistan, Afghanistan and India on the southwest. The capital is Urumqi, and the other main cities are Turpan Prefecture, Kashgar Prefecture, Hotan (Hetian) Prefecture, Aksu Prefecture.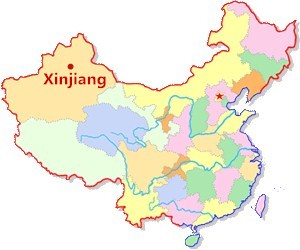 Facts of Xinjiang
Chinese Name: 新疆( Xīn Jiāng )
Abbreviation: 新 (Xin)
Administration Type: Autonomous Region
Capital: Urumqi
Location: 34°25' to 48°10' N, 73°40' to 96°18' E
Climate: temperate continental arid/ semiarid climate
Average Annual Rainfall: 165.6 millimeter
Area: 1,664,900 km² (about 642,821 mi²)
Population (2010): 21,813,334
Major Ethnic Group: Uygur
---
Cities of Xinjiang
Xinjiang, the largest of China's provinces and is interesting due to it's economical, political, cultural and geographical position. This province was once crossed by the Great Silk Road that provided the province a great profit and a means of development. The cities situated on the camelcade roots of the Silk Road were particularly rich and modern, people from west and east civilizations met there. There were cosmopolitan cities.
Nowadays, these cities have preserved their greatness and can be visited. They are: Urumqi, Turpan, Hami, Changji, Ili, Aksu, Korla, Kuqa, Artux, Kashgar, Hotan. These cities keep monuments of the Great Silk Road, such as Muslim mosques, Buddhist Temples, bazaars, old streets, caves, ruins of the ancient cities nearby, etc. All these attractions are worth to be visited.
---
What to see in Xinjiang?
Known as the home of singing and dancing, the land of fruits, and the place of gold and jade stones, Xinjiang Uyghur Autonomous Region of China boasts for its vast expanse, beautiful landscape and unique folk customs. There are in total over 1,100 registered scenic areas in Xinjiang, ranking first in the country. In a selection of the best scenic areas in Xinjiang by Tourism Bureau of Xinjiang Uygur Autonomous Region, the follow ones won the highest scores in public appraisal and professional evaluation. We will introduce them in 3 categories, Nature, History, Culture... More: Xinjiang Attractions
| | | |
| --- | --- | --- |
| | | |
| Heavenly Lake | Mount Tianshan | Balikun Grassland |
| | | |
| Jiaohe Ancient City | Turpan Grape Valley | Xinjiang Kanas Scenic Area |
---
When to visit Xinjiang?
Situated far from the sea and encircled by high mountains, Xinjiang has a typical continental climate with a low annual rainfall, long sunshine duration and a large diurnal temperature variation. These weather conditions are favorable for sugar accumulation in fruit, so the area is richly cultivated with fruit including melons. It is famous as a 'hometown of fruit and melons'. The most well-known fruit are grapes and honeydew melon. In general, winters are very cold, springs are often windy, and summers are extremely hot here.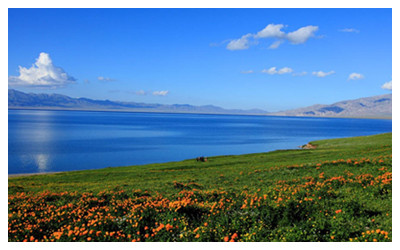 The best time to visit is early autumn, when the days are long, the sky is clear, and the temperature is more bearable. Another excellent reason to visit at that time is the abundance of delicious melons and fruits, which are available then. The best time to visit Xinjiang is later May through June, September through October. Xinjiang's climate is one of the extremes. Winter (December to March) could be very cold. Spring (April and May) is not suitable for travel with possible dust and sandstorm.
An autumn trip to Kanas Lake is often sought after by photographers; A June through Auguest visit to Nalati Grassland and Buyanbulak Grassland is a great escape from hustle and bustle of city life; June, Auguest, September and October are the best time to explore the ancient middle and south silk roads along the Tarim Basin betwenn Tianshan Mountains and Kunlun Mountains and experience the east ancient silk road - Turpan, Hami... more : Xinjiang climate & weather
---
How to get to Xinjiang?
Xinjiang, bordering Central Asia, is strategically positioned as the country's transport hub on the Silk Road Economic Belt.Situated in the northwestern border area of China, Xinjiang Uygur Autonomous Region covers nearly l/6 of the total area of China. It borders on Mongolia, Russia, Kazakhstan, Kyrgyzstan. Tajikistan, Pakistan and adjoins Gansu, Qinghai and Tibet Autonomous Region. In ancient times,Xinjiang was a part of the West Regions, where the world-famous Silk Road of the Han and Tan Dynasties passed through... More Read: Xinjiang Transportation
---
Xinjiang is also a region of many minority groups in China, and its people is known far and wide for being excellent at singing and dancing. Uygurs are the principal minority group there, the rest are the Hans, Kazaks, Mongolians, Huis, Xibes, Kirgizes, Ozbeks, Tajiks, Russians, Manchus, Daurs and Tatars. Their distinctive culture form adds more charm to the region.
---