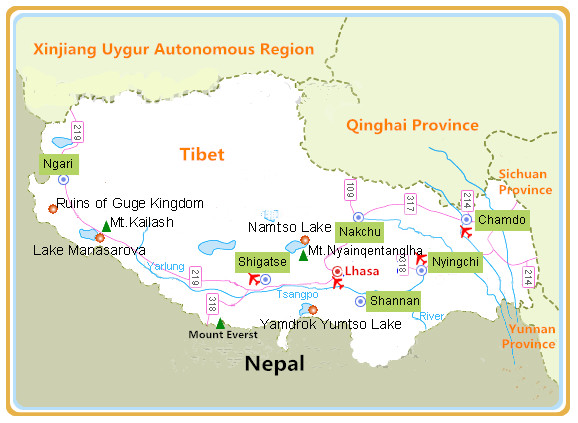 Tibet Autonomous Region, located in southwest China, neighbors Xinjiang Autonomous Region to the north, Qinghai Province to the northeast, Sichuan Province to the east; Yunnan Province to the southeast, India Nepal and Bhutan to the south. Due to its high altitude, Tibet Autonomous Region occupies one eighth of the China's territory. it is often called the 'Roof of the World' and the 'Third Pole of the Earth'. It boasts the world's highest peak, the splendid Mount Everest, and the Tibetan Plateau, where the Yangtze River and Yellow River both begin.
Facts of Tibet
Chinese Name: 西藏 (xī zàng)
Abbreviation: Zang
Admin. Type: Autonomous Region
Capital: Lhasa
Location: 26°50' to 36°53' N, 78°25' to 99°06' E
Area: 1,228,400 km² (474,288 mi²)
Average Altitude: Over 4,000 meters (13,123 feet)
Population : 3,505,600 (2019)
---
Cites of Tibet
---
History & Religion of Tibet
Tibet History
can be traced back by about 4,000 years, during which the Buddhist religion, Zang Language and culture are shaped up. Most of local inhabitants practice Tibetan Buddhism and Bon. They maintain many unique practices, such as pilgrimage prostration and sky burial, where the bodies of the dead are exposed to birds of prey. Potala Palace, Jokhang Monastery and Toling Monastery are among the most famous Buddhist temples.
---
What to see in Tibet?
Tibet enchants tourists from China and abroad with its landscape, religious traditions, culture, and its unsolved mysteries. At any mention of this land, the images of snowy mountains, mirror-like lakes, Potala Palace and Buddhist disciples immediately come to mind...Tibet Attractions
---
When to visit Tibet?
The extreme climate makes Tibet one of the world's harshest places to live. Although its summers are cool, winters are viciously cold, and the differences between daytime and nighttime temperatures can be vast. Visitors are strongly advised to prepare appropriate clothing according to the season they are traveling in. Summer and autumn, from June to October, are considered to be the best times to visit... Tibet Climate
---
How to reach Tibet?
In recent years, the local transportation transportation has improved drastically, particularly so with the completion of the Qinghai-Tibet Railway. The Lhasa Gonggar Airport also operates flights to the first-tire cities of China, such as Beijing, Shanghai, Guangzhou and Xi'an. A few international flights are also available...Tibet Transportation
---
Tibet Travel Tips
Here we provide full information for the visitors including the planning of Tibet trips, practical information and some travel tips. Through them, hope you can have a good preparation....Tibet Travel Tips