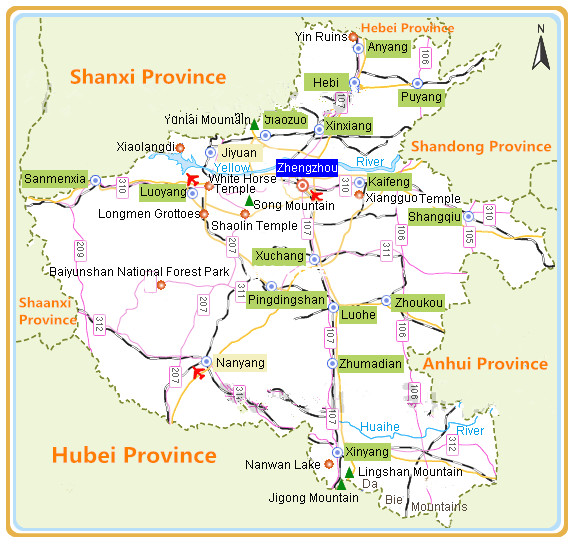 Henan , Yu 豫(yù) for short, is a province located in the Northern Central Area of China. The name Henan (河南) means "South of the River", a reference to the province's location —— South of the Yellow River. It shares its borders with six other provinces, Shandong to the northeast, Hebei to the north, Shanxi to the northwest, Shaanxi to the west, Hubei to the south, and Anhui to the east. The eastern portion is flat and part of the North China Plain, one of the most densely populated areas on Earth. Indeed Henan is the most populous province in China, with almost 100 million people. The mountainous west and southwest is more remote with vast expanses of forest.The Yellow River ,mother river of the Chinese nation, runs through the province of Henan...more about Henan Province
Facts of Henan
Chinese Name: 河南省(hë nán shêng)
Add: in the Northern Central Area of China
Area: 167,000 km2
Population: 10,906,000 (2018)
Nationalities: Han, Hui, Manchu, Mongolian
Capital: Zhengzhou
Administrative: there are 18 cities under the Henan Province Government. They are Zhengzhou,Luoyang,Kaifeng,Xinxiang, Nanyang,Jiaozuo,Zhumadian,Puyang,Anyang, Sanmenxia Xuchang,Zhoukou
---
Tourism Cities in Henan
Here lists top tourism cites in Henan, such as Zhengzhou,Luoyang,Kaifeng,Xinxiang, Sanmenxia
---
History of Henan
Henan is the birthplace of the Chinese nation, the cradle of China's 5000-year-long civilization and the place of origin of many Chinese family names as well. From the Xia Dynasty (about 21st century B.C to 17th century B.C), the first dynasty in China, to the Northern Song Dynasty (around 12th century A.D), more than 200 emperors from over 20 dynasties set up their capitals in (or moved their capitals to) Henan, making it the ancient political, economic and cultural center of China....More
Henan History & Culture
---
What to see in Henan
From the perspective of mountain tourism resources, Henan has a colorful and diverse landscape. Natural resources are mainly concentrated in the "three mountains and one water". There are three 5A-level scenic spots in Nantaihang, seven 5A-level scenic spots in Funiu Mountain, and the red scenic spots in Tongbai-Dabie Mountain are relatively concentrated. The Yellow River Golden Tourism Belt is an important part of the national publicity. Brand. There are 4 world geological parks, 7 national geological parks, and 5 national ecotourism demonstration zones....more about
Henan Attarctions
---
How to get to Henan
Located in the North Central Region of China, Zhengzhou is at the junction of China's two greatest trunk railways, the line running from Beijing to Guangzhou and the Longhai line, which runs from the east coast to Xinjiang, in the far northwest. Local railroads have also been developed, and most of the province's goods are now carried by rail.... More:
Henan Transportation
---
When to visit Henan
Henan lies in a transitional climatic zone between the North China Plain and the Yangtze valley. Although protected in some degree from the Mongolian winds by the Taihang Mountains, Henan has cold winters; summers are hot and humid. Average January temperature in the north is −2ºC and in the south 2ºC. Average July temperature over the lowlands is 28ºC, while in the western mountains it is a degree or two lower. There are 180 frost-free days annually in the north and 240 in the south...Read more about
Henan Climate & Weather
---
Henan Travel Tips
Henan's famous historical and cultural cities include Zhengzhou, Kaifeng, Luoyang, Anyang, Nanyang, Shangqiu, Sanmenxia, Pingdingshan, Xinxiang and others. Traveling Henan means enjoying the beautiful landscape and the historic relics and ruins. It also means seeking the Chinese roots and rediscovering the soul of the Chinese nation.