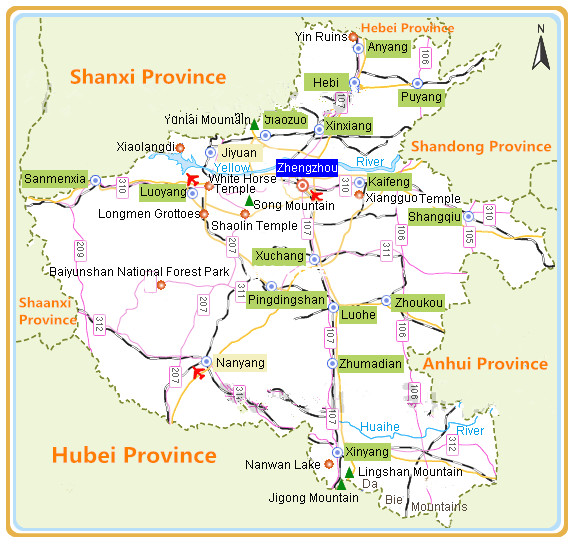 Kaifeng City is located to the east of Henan Province, 72 kilometers from Zhengzhou City.Backing on to the Yellow River to the north and facing Huanghuai Plain to the south, Kaifeng City, famous in the world for its profound historical and cultural heritages, is among the 24 historical cultural cities in China.
Kaifeng Facts
Chinese Name: 开封 (kāi fēng)
Population: 5,270,000
Total Area: 6,444 square kilometers
Urban Area: 359 square kilometers
Nationalities: Han, Hui
Administrative Division: The prefecture-level city of Kaifeng administers five districts and five counties, including Gulou District, Longting District, Yuwangtai District, Jinming District, Shunhe Hui District, Weishi County, Qi County, Tongxu County, Lankao County and Kaifeng County.
---
History of Kaifeng
Kaifeng City is known as one of the Seven Ancient Capitals of China with the short name of 'Bian'. The city's history can be traced back to Spring and Autumn Period (770 BC - 476 BC). It was named 'Qifeng' at that time. Later in Han Jingdi (Liu Qi) Period, it got the name of 'Kaifeng'. From 364 BC to 1233 AD, the city was the capital of the Kingdom of Wei (475-331 B.C.), Later Jin (936–946), Later Han (947–951), and Later Zhou (951–960) of the Five Dynasties (907-960), Northern Song Dynasty (960-1127), and the Jin Dynasty (1115-1234), also known as 'the Capitals of Seven Dynasties'. At the beginning of the Ming Dynasty (1368-1644), the city was made the capital of Henan Province.
---
What to see in Kaifeng?
Travel to Kaifeng,You can understand more about the culture of Kaifeng by seeing many colorful folk arts, such as lion dance, drum set, stilts, land boat and suona. This city is also known as the hometown of painting and calligraphy as well as opera. You may get unexpected gain from visiting the local painting and calligraphy gallery or small theater.
| | | |
| --- | --- | --- |
| | | |
| Xiangguo Temple | Kaifeng Prefecture | Kaifeng Irion Pagoda |
| | | |
| Memorial Temple of Lord Bao | Dragon Pavilion Park | Yinxu Relics |
| | | |
| Kaifeng Millennium City Park | Zhuxian Ancient Town | Kaifeng Jewdaism Mosque |
---
When to visit Kaifeng?
Kaifeng boasts a temperate continental monsoon climate of four distinctive seasons, plentiful sunshine, warm weather and moderate rainfall. The annual average temperature is about 14 ℃ (57 ℉) and the annual average rainfall is about 670 mm.
Autumn in Kaifeng is the most fascinating season, with moderate weather and rainfall. Besides, people can also appreciate the beautiful chrysanthemum.
---
How to get to Kaifeng?
Kaifeng is conveniently located with good transportation facilities, and the direct (trains) buses to and from Beijing, Zhengzhou and Luoyang are available at Kaifeng (Railway) Bus Station. It takes about an hour from Kaifeng to Xinzheng International Airport.
By Air: There is no airport in Kaifeng. However, Xinzheng Airport in Zhengzhou is not far from here.
How to Get To Xinzheng Airport from Kaifeng: Take an inter-city bus in Jinming Square and get off at Deyi Hotel in Zhengzhou. Then, take Bus 26 to Civil Aviation Hotel, and take an airport bus here. It takes about 40 minutes to get to Zhengzhou Airport.
By Train : Located in the Central Plain, transportation is quite convenient. Longhai Railway (Lianyungang-Lanzhou) which runs across China from east to west passes Kaifeng Railway Station. Kaifeng Railway Station is on the East-West Longhai Railway mainline and provides convenient access to many cities around China. From Kaifeng, people can travel to Zhengzhou, Luoyang, Xi'an and other cities westwards, and go to Xuzhou in Jiangsu Province and other cities eastwards. Kaifeng is 70 kilometers from Zhengzhou and 150 kilometers from Shangqiu.The Zhengkai Intercity Railway is well into its construction phase and due to start operate by 2013.
By Bus: There are four main coach stations in Kaifeng: Kaifeng West Coach Station, Kaifeng Long Distance Coach Station, Kaifeng Jinming Coach Station, Kaifeng Xiangguosi Coach Station. There are frequent services to many neighbouring counties, other provincial cities and long distance services to other province.
---
Kaifeng Travel Tips
Shopping in Kaifeng: Travel to Kaifeng you can buy some special Local Product: Bianliang Watermelon, Pickled Radish, Spiced Dried Bean Curd, Peanut Cake.
Nightlife in Kaifeng: Nightlife in Kaifeng is not as colorful as in larger cities. The number of bars and clubs in Kaifeng is very limited, so it is not the right place for night dwellers and party animals. In this old city, it is interesting to take a leisurely stroll or do some hard bargaining in the night market.
Dining in Kaifeng: Kaifeng is the birthplace of Yu Cai (Henan Cuisine) which is one of the ten major Chinese cuisines in China.Kaifeng cuisine has a long history and also a profundity for its variety; it's also the cradle of Henan dishes, featuring wheaten food which is widely eaten by the locals. The highlighted Henan dishes include Carp with Noodles in Sweet and Sour Sauce, Spring Chicken in Salt, Small Steamed Buns, Chinese Rice Puddings, Mutton Broth, Almond Tea and Scrambled Agar-Agar Jellies. Here's a list of famous food and restaurants in Kaifeng.