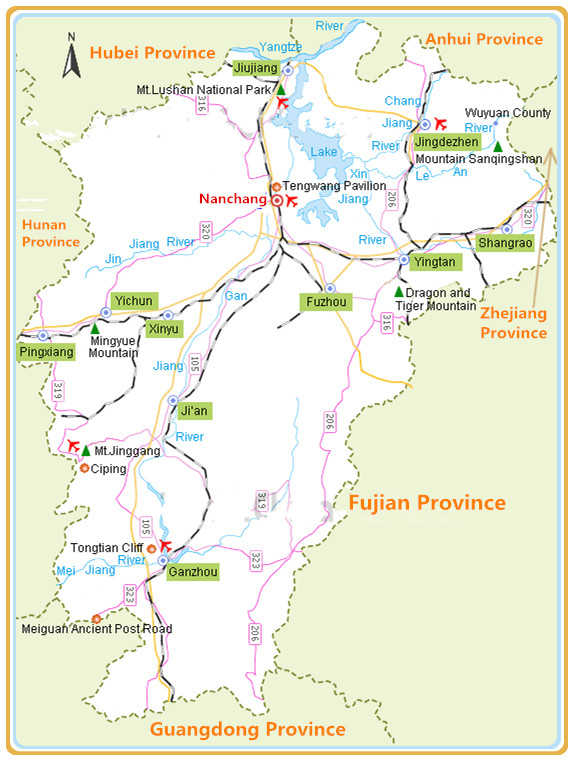 Covering an area of 167,000 square kilometers, with a population of 45 million, Jiangxi province is situated in the middle and lower reaches of the Yangtze River. It borders Zhejiang and Fujian provinces to the east, Guangdong to the south, Hunan to the west, and Hubei and Anhui to the north. Jiangxi is a cradle of the Chinese revolution. The rural revolutionary base established by Mao Zedong in
Jinggang Mountain
is known as "The Red City."
Nanchang
, the region's capital and the most densely populated city, is one of China's largest metropolises. It's the hub of Jiangxi civilization throughout its history, which plays a leading role in the commercial, intellectual and industrial and political fields.
Ganzhou
city is the largest subdivision of Jiangxi province.
Facts of Jiangx
iEnglish Name: Jiangxi Province
Chinese Name: 江西 ( Jiāngxī)
Abbreviation: 赣 (Gan)
Capital: Nanchang City
Location: in the middle and lower reaches of the Yangtze River.
Area:1,669,000 square kilometers
Population (2018): 4647.6 million
---
History of Jiangxi
The name "Jiangxi" derives from the circuit administrated under the Tang Dynasty in AD 733, Jiangnan Xidao. Circuits were established during the Tang Dynasty as a new top-level administrative division. Because the Gan River runs through this province from north to south, it is also called Gan for short. The history of Jiangxi stretches from Lower Paleolithic times to the present, as Jiangxi was already inhabited by humans one million years ago. The first recorded people inhabited in Jiangxi are Baiyue and their influence is still found in nowadays Gan language. Centered on the Gan River valley, Jiangxi provides the main transport route from the North China Plain and the Yangzi River valley to the territory of modern Guangdong province. As a result, Jiangxi has been strategically important throughout much of its history.
---
Jiangxi Tourism Cities
Jiangxi has a total of 11 prefecture-level cities, including Nanchang City, Jingdezhen City, Pingxiang City, Jiujiang City, Xinyu City, Yingtan City, Ganzhou City, Ji'an City, Yichun City, Fuzhou City, Shangrao City.
---
What to see in Jiangxi?
There're several historic events or sites related with the province with sacred reputation in history of the People's Republic of China, e.g. Nanchang Up-rising , Jinggangshan Revolutionary Base,temporary central government of the Soviet Republic of China, labour movement in Anyuan and so on. They together composed a splendid picture scroll of revolutionary history in China. The forest coverage in Jiangxi Province has reached 60 percent, ranking the first in China. Average annual rainfall of 1,700 millimeters and about 2,400 rivers provide an excellent condition for the protection of Poyang Lake, the biggest fresh lake in China with excellent water quality. Over the lake there's one of the largest habitats for transient birds in the world, which is also a world-famous reservation for rare transient birds. Scenic spots and resorts are distributed all over the province, such as Lushan Mt. listed as a UNESCO world heritage site in 1996; Jinggang Mt., one of the holy revolutionary sites in China; Dragon & Tiger Mt., famous as the cradle of Taoism; and Shanqing Mt. with plenty of unique and spectacular landscapes. Jiangxi also enjoys a good reputation for its rural scenery. For example, Wuyuan Village holds the honor of the most beautiful village in China.Here lists top attractions in Jiangxi Province. More read: Jiangxi Attractions
---
Whe to visit Jiangxi?
Jiangxi has a warm and humid climate with cold springs and winters, hot summers and dry autumns thus accounting for its four distinct seasons. Annual rainfall averages 1400-1800 millimeters and the average temperature of the province is 3-9

C in January and 27-31

C in July.
Jiangxi province is a showcase for natural beauty. Visitors will find it hard to leave its beautiful mountains, lakes and rivers. Particularly attractive is Poyang Lake, which is not only the biggest fresh water lake in China, but also the largest winter habitat for white cranes. When winter approaches, about 2,800 white cranes will migrate to Poyang Lake to spend their winter. What a spectacular sight! On the east side of this lake is Mt. Lushan, a wonderful summer resort with its lush mountains, enveloping clouds and mists, rapid streams and numerous deep pools and waterfalls. Mysterious and enchanting sceneries nestle in its secluded valleys and deep ravines. Sudongpo, a well-known poet of the Song Dynasty (960-1279), in honor of the 'Cloud Sea' of Mt. Lushan for its ever - changing mist, wrote, 'The failure to get a real perspective of the mountain only results in the fact that you are right in the midst of it'. Another mountain - Jinggangshan enjoys a dual reputation. It is more widely known as the cradle of the Chinese revolution rather than for its natural beauty, which is, in fact, comparable to the more famous Lushan Mountain.
---
How to reach Jiangxi?
By Air: Jiangxi's civil air transport has formed an air transport network with Nanchang as its core. Ganzhou, Jiujiang, Jinggangshan, Jingdezhen, Yichun and other cities connect the country and the world. Nanchang Changbei International Airport is an aviation hub for China and international passenger and freight transportation. There are also civil aviation airports in Ganzhou, Jinggangshan, Jingdezhen, Yichun and Jiujiang.In 2018, Changbei International Airport opened a visa service for foreigners on the shore of the country, with a passenger throughput of 13.52 million passengers, an increase of 23.7%.
By Railway: In Jiangxi Province, there are Beijing-Taiwan high-speed railway, Kuntai-Taiwan high-speed railway, Shanghai-Kunming high-speed railway, Beijing-Kowloon railway, Zhejiang-Jiangxi railway, Anhui-Jiangxi railway, Yingxia railway, Beijing-Kowloon high-speed railway, Jiujingyu railway, Hejiu railway, copper Kowloon Railway, Gan Ruilong Railway, Changjiu Intercity Railway, Changjiang Passenger Dedicated Line, [Wujiu Passenger Dedicated Line, Xiangya Railway (Changfu Railway), Hengchaji Railway, Ganshen High Speed Railway, etc. By the end of 2017, the operating mileage of railways in Jiangxi Province was 4,137 kilometers, of which high-speed railways ranked third in the country.

By Bus: By the end of 2018, the mileage of highways in Jiangxi Province was 162,000 kilometers, of which 6,120 kilometers were highways. Jiangxi Expressway is very developed, ranking 9th in the country. The province has dense lines and criss-crosses, with a traffic mileage of 6,120 kilometers. It has achieved county-to-county expressways and opened 28 provincial exits. The highway network covering the whole province and connecting the surrounding areas has been built.
---
Jiangxi Travel Tips
Jiangxi Local Products: Jiangxi is one of the ancient tea-producing areas in China. The Black Tea produced in Ningzhou city and the Green Tea produced in Wuyuan city are well-known throughout China. The major cash crops in Jiangxi are tea and hemps—jute and ramie. The white grass linen made from ramie in Yichun and Wanzai are of best quality. Tea grows mainly in the hilly areas in the north. Such tea like "Ninghong" from Wuning, "Wulu" from Wuyuan and "Yunwu" from Mt. Lushan are all well know in China. Equally famous are Guangchang white lotus seeds and Nanfeng tangerines. Besides, Fuzhou watermelon, Shangrao pear, Ganxian persimmon and Nankang shaddock also enjoy a good fame. Jingdezhen is world-renewed for its porcelain. Today, a new generation of porcelain—artistic or for industrial use -- is being developed. In addition, there are such handicrafts as bamboo and wood crafts, embroidery and special craft, etc.

Jiangxi Local Cuisine: Based on Nanchang and Ganzhou schools, the Jiangxi food is characterized by its fine local ingredients and special culinary arts (including broiling, steaming, stir-frying, stewing, braising and rice-power steaming). The food is widely acceptable as it is tasty, oily but not rich and neither too salty nor too hot. Xinya Restaurant in Nanchang is noted for its delicately cooked, brightly coloured and savoury local specialities,