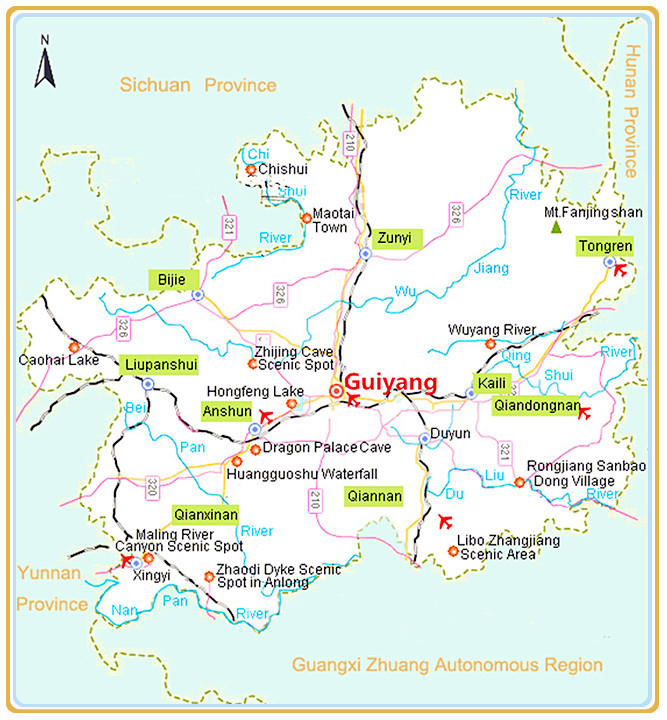 Guizhou province, also called "Qian" or "Gui", is located in the eastern Yunnan-Guizhou Plateau of Southwest China. It is contiguous to Hunan, Chongqing, Sichuan, Yunnan and Guangxi from the east, north, west and south, respectively. There are four major mountains in the province: Wumeng Mountain, Dalou Mountain, Miaoling Mountain and Wuling Mountain.Among them, the 109,000 square kilometers of karst landscape account for 61.9 percent of the total land area in the province. For this reason it is known as a "natural encyclopedia" of the karst landform. Guizhou is also a "natural park" with picturesque natural scenery, ethnic cultures, waterfalls, valleys, karst caves and landscapes...Read more about Guizhou Province
Facts of Guizhou
English Name: Guizhou
Chinese Name: 贵州(Guì Zhōu)
Abbreviation: Gui or Qian
Administration Type: Province
Capital: Guiyang
Location: 24°37' to 29°13' N, 103°36' to 109°35' E
Climate: subtropical humid monsoon climate
Temperature: 15°C(annual average); 3-6°C(average of the coldest January); 22-25°C(average of the hottest July)
Perennial Relative Humidity: ≥70%
Area: 176,167 km²
Population: 38,562,148 (2020)
Major Ethnic Groups: Miao, Dong, Yi, Tujia, Buyi
---
Tourism Cities in Guizhou
Guizhou province governs six county-level cities (Guiyang, Zunyi, Liupanshui, Anshun, Bijie and Tongren), three autonomous prefectures (Qiandongnan, Qiannan and Qianxinan) and 88 counties.
---
History & Culture of Guizhou
There are 17 aboriginal ethnic groups inhabiting the province of Guizhou, including the Miao, Bouyei, Dong, Sui, Gelao, Yi and Tujia. Their colorful cultural relics and customs make Guizhou a popular destination for heritage-based tourism. Francesco Frangialli, former secretary-general of the World Tourism Organization, said "Guizhou is a province of culture, eco-environment, folk songs and dances, and wine."
Guizhou Province is home to 48 China's ethnic groups, second only to Yunnan Province, each of which has developed their own unique customs and cultures. When traveling there, visitors should not miss the chance to experience their simple and original living habits, appreciate the unique architectural styles and try their exotic and colorful costumes, etc. For example, one can go to Langdeshang Miao Village or Xijiangqianhu Miao Village to admire their stilt-houses and colorful traditional clothes; to China's last gunmen's tribe, Basha Miao Village, to experience their unique life styles; to Buyi Stone Village to explore how this stone village was made without any other construction materials; to Dong villages to see Dong-style drum towers and wind-rain bridges, etc. What's more, over 1,000 festivals are celebrated by ethnic groups each year in Guizhou, providing the best opportunities for visitors to experience these ethnic traditions. The most famous festivals include Sanyuesan Festival and Sister's Meal Festival in the spring, Liuyueliu Festival in summer, and the Shui New Year Festival in autumn.
---
What to see in Guizhou?
Guizhou Province is a picturesque place with abundant natural and cultural scenic spots. Many Chinese ethnic minorities have been living on this land for centuries. Visitors to that area can not only appreciate various attractions, but also discover the rich and distinctive folk customs and cultures of the different ethnic groups...Guizhou Attraction Here lists Top Attractions in Guizhou:
---
How to reach Guizhou?
Guizhou is an important channel to the sea and a land transportation hub in Southwest China. 2023 kilometers in expressway construction and 2066 kilometers for railway construction made the total mileage is up to 14 thousand kilometers. It has five railway lines, connecting Sichuan-Guizhou, Hunan-Guizhou, Guiyang-Kunming, Guizhou-Guangxi, and Nanning-Kunming. There are regional airports in Guiyang, Tongren, Xingyi, Anshun, Liping and Libo. The three branch-line airports in Zunyi, Bijie and Liupanshui are stepping up construction. ...Guizhou Transportation
---
When to visit Guizhou?
Guizhou has a subtropical humid monsoon climate, which is frequently cloudy and rainy. There are few seasonal changes here with the result that it is neither too cold in the winter nor too hot in the summer. As a whole, people here enjoy a pleasant climate. Its capital city, Guiyang, is considered a 'world's summer resort' because of the moderate temperature... Guizhou Climate & Weather
---
Guizhou Travel Tips

Medical Services in Guizhou