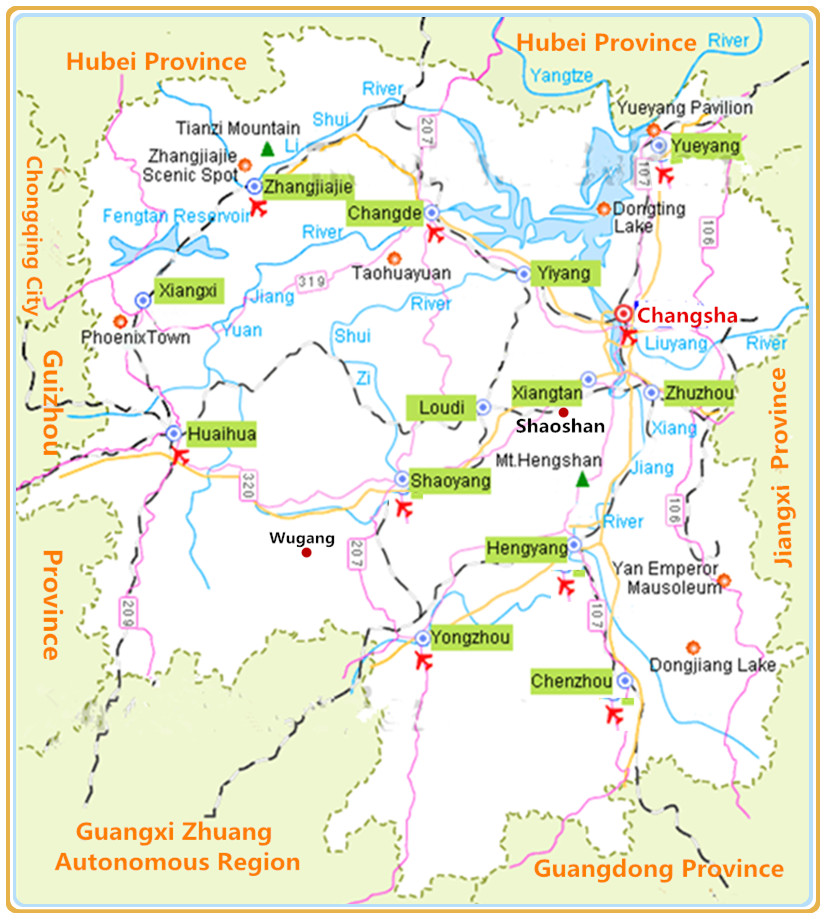 Hunan Province is located in the middle of China and the middle reaches of the Yangtze River. It is named "Hunan" because most of its areas are located in the south of Dongting Lake and the abbreviation of Xiang is for the Xiangjiang River, the largest river in Hunan, running through the whole territory. The provincial capital is Changsha. It is adjacent to Chongqing and Guizhou to the west, Guangdong and Guangxi to the south and Hubei to the north. With many historical remains and natural scenic areas, Hunan is also a popular tourist destination featuring magnificent natural scenery in Zhangjiajie and ancient residential buildings in tranquil Fenghuang Ancient Town. Historic Changsha, one of China's famous cultural centers, is the capital of the province. It is also a tourism center, offering its visitors many historical sites and other places of interest. Changsha Museum is a good place to learn more about the history and culture of Changsha.
Facts of Hunan
Chinese Name: 湖南 (hú nán)
Abbreviation: Xiang
Location: in the south-central China
Area: 211,800 square kilometers (81,776 square miles)
Population: 69,184,000
Nationality: Han,Hui,Tujia, Miao,Dong, Yao
---
Tourism Cities in Hunan
Administrative Division of Hunan: 13 cities (Changsha, Zhuzhou, Xiangtan, Hengyang, Shaoyang, Yueyang, Changde, Zhangjiajie, Yiyang, Chenzhou, Yongzhou, Huaihua, Loudi); 1 autonomous prefecture (Xiangxi Tujia and Miao Autonomous Prefecture); 68 counties; 18 city-level counties; 36 districts.
---
History of Hunan
In the Spring and Autumn Period and Warring States Period, it belonged to the Chu Kingdom, but in the Qin Dynasty it was divided into two shires that were subordinate to Jingzhou in the Han Dynasty afterward; in the Tang Dynasty they became two Daos with the name Hunan appearing for the first time; in the Song Dynasty the title Dao was changed to Lu; in the Yuan and Ming Dynasties, the Administrative Province-Huguang Xingsheng had been set up; finally the emperor of the Qing Dynasty made it Hunan Province...More read:
Hunan History & Culture
---
What to see In Hunan?
Hu'nan Province has a long history and a beautiful landscape, and is particularly rich in tourism resources. As one of the cradles of Chinese revolution. Abundant in natural resources and products, Hu'nan Province is acclaimed as "land of fish and rice". Furthermore, Hu'nan Embroidery is one of "the Four Famous Embroideries" in China, and its cuisine is one of "the Eight Major Chinese Cuisines".Here lists top attractions in Hunan.
---
When to visit Hunan ?
Hunan is located in a region with a continental subtropical seasonal humid climate with four distinct seasons. It has abundant sun, long frostless periods and abundant rain. The annual sunshine duration is 1300 to 1800 hours. The annual average temperature is between16-18ºC. The frostless period is as long as 260-310 days. Annual rainfall is 1200-1700 mm, which is favorable for agricultural crops and green plants.With a short spring of two months and a long summer lasting five months, The best time to visit Hunan is from March to November....More Read: Hunan Climate & Weather
---
How to get to Hunan?
Hunan has basically formed an integrated traffic system featuring external and internal connections, coverage of both urban and rural areas and full functions. Since the beginning of the 13th Five-year Plan period (2016-2020), Hunan has advanced key transportation projects and establishment of comprehensive transportation system as fundamental tasks of high-quality development. The transportation facilities and operational efficiency have been improved...Hunan Transportation
---
Hunan Travel Tips

Shopping In Hunan: The products here include Xiang embroidery, one of China's four famous embroideries. It has high artistic value. With 200 years of history behind them, the chrysanthemum stone carvings of Liuyang are vivid and exquisite. Liuyang City is known for its firecrackers, which are popular all over the country.
Dining In Hunan : Hunan cuisine, one of the most famous eight style cuisines in China, has its unique flavor. Here, nearly every dish tastes hot, and delicious. The local people like eating peppery foods.

Nightlife In Hunan : Changsha is the capital of Hunan Province, Zhangjiajie is one of the most famous tourist destination in China. Nightlife is very colorful in Zhangjiajie or Changsha.
Hunan People : Many great people have come from this province. In ancient times, Quyuan, a patriotic poet, committed suicide by throwing himself into the Miluo River. The story of his death and the search for his body started the tradition of Dragon Boat Festival. Chairman Mao, idol of the Chinese people, was born in Mt. Shaoshan. Zhu Rongji, one of the important leaders in the country, also comes from this province. Such famous people show that Hunan is a place that has cultivated talent as well as being a destination for visitors.With abundant natural resources,Hunan is multiethnic, with Miao, Dong, and Yao being the most numerous minorities. Their unique cultures and ethnic customs attract numerous visitors.

Geography of Hunan: Basically Hu'nan is positioned between the coastal opening up zone in Southern China and Yangtze Valley which adds to its geographical advantage. Surrounded by mountains and hills in the east, west and south, Hunan comprises of hills and basins in the center and plains in the north. The center and northern parts are a somewhat low and a U-shaped basin, open in the north and with Dongting Lake as its center.