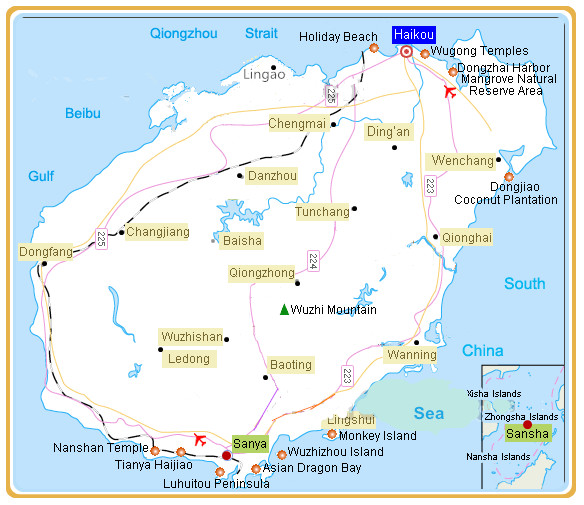 Sanya City is located on the southernmost tip of
Hainan Province
. The position between 180°9′ and 18°37′ latitude gives it the tropical monsoon climate. Covering an area of 1919.58 square kilometers with 209.1 kilometers long coastline, this coastal city has many natural advantages. Possessing a number of excellent harbors, Sanya is an important port for import and export of trade with foreign countries. Therefore, it is also named the
'South Gate of China'
to stress its importance while it plays a vital role in the life of the southern part of China in areas of the economy and politics to transportation.
Facts of Sanya
Chinese Name: 三亚市 ( Sān Yǎ Shì)
Area: 1919.58 square kilometers (about 741 square miles)
Population: 685,400
Area Code: 0898
Zip Code: 572000
Nationality: Han, Ni
---
History of Sanya
In ancient times,Sanya was just a small fishing village, fishing port and one of the most important navy bases of China until 1954. The center of Southern Hainan Island was Yanzhou in ancient times with a recorded long-lasting history. In October 1954 the administration of CPC Yaxian Committee was relocated from Yacheng to Sanya. Approved by the State Council of China, Yaxian was upgraded to Sanya City on September 26,1987.On December 30 on the same year, Sanya City was officially named and performed accordingly...More
---
What to see in Sanya?
For most travelers, Sanya is a noted tourist resort with mountains, rivers and the best seaview. The favorable climate is hot in summer but warm in the three other seasons so attracting large numbers of followers from both home and abroad every year. The whole city is related to the sea. Here you can enjoy a unique tropical oceanic landscape that is totally different from the other provinces of China. Sanya Bay, Dadonghai and Yalong Bay all golden seaboards of Sanya, are some of the first choices for visitors to spend their holidays. Instead of a busy and exhausting journey, you can relax totally here by strolling along the beaches and breathing the fresh air. If you are an enthusiast of exciting water activities, Wuzhizhou Island is your place to challenge the mysterious and changing sea...More
---
When to visit Sanya?
Sanya Hainan enjoys a tropical climate with annual average temperatures ranging between 18°C (65°F) and 28°C (82°F) and annual rainfall between 1,500 mm and 2,000 mm. An average of about 12 hours per day have daylight and more than 300 days of a year on average, are sunny. The average annual temperatures of Sanya Hainan hover at a beautiful 22-28 °C Celsius.
Warm & dry season (October till March) is the best time to visit Sanya when it is sunny, dry and warm with average temperature less than 25 d. Sometimes in December and January, temperature during the day could be less than 25 °C. For people who are used to very warm climate, it is chilly...More
---
How to get to Sanya?
Flying is the fastest way, 95% passengers access by flight. For flights from Hong Kong to Sanya, from Shenzhen to Sanya and Guangzhou to Sanya each takes 1 hour only, for flights form Shanghai to Sanya takes two and a half hours, Beijing to Sanya flights takes three and half hours. Therefore, whether you choose direct flights from domestic China, or flights transit from other countries, all are very convenient....More Read : Sanya Transportation
Hainan to offer visa-free access to visitors from 59 countries
On 18 April,2018, Hainan is easier to access than Mainland China for many nationalities, because Hainan's Special Visa-Free Policies. And today, China will offer a greater visa-free access to tourists from 59 countries arriving in Hainan Province from May 1, in a move to support the island's reform and opening-up, the State Immigration Administration announced Wednesday.
The visa-free policy will benefit group or individual tourists via travel agencies from 59 countries, including Russia, Britain, France, Germany, and the United States.
---
Sanya Travel Tips
Tasting the local dishes is a must on your journey. Sanya never shirks in its efforts to entertain its guests with a variety of seafood and delicious tropical fruits all the year round. Both of the star-rated hotels and a number of roadside booths serve the freshest seafood. Shopping is also a must on your journey, so don't forget to choose some sea products and beautiful decorations for you or your friends and relatives back home. With good quality, star-rated hotels and reasonable hostels distributed everywhere in the city and waiting for you, there is no need to worry about accommodation.