---
Yalong Bay Beach
---
Yalong Bay Beach is about 30 minutes driving from Sanya Airport, 20 minutes driving to downtown Sanya with more than 10 hotels including world class resorts & local hotels, the most popular beach for relaxing in Sanya, clean sandy beach, crystal water away from big crowd in town, but no local life, only for tourists. If you work in China, and look for a quite relaxing beach holiday, Yalong Bay is a very good choice.
---
Yalong Bay Map
Sanya Popular Beach, Yalong Bay Sanya Hainan Island, China so far the best developed beach on Hainan Island.Please click on the name of Resort & Hotel to get more information.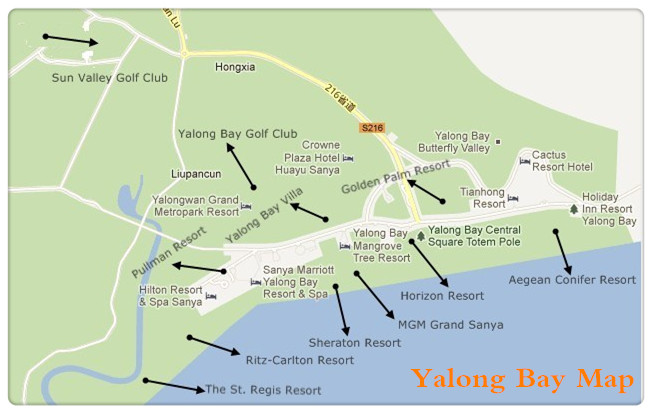 ---
What to do and what to see ?
Yalong Bay is the best beach area in Sanya where you will find all what you want. Crystal-clear water, white sand beach (not crowded at all) and the best beach resorts in China. Situated about 25 km east of Sanya City and 35 km from Sanya Airport, Yalong Bay centers on a crescent-shaped beach of about 7,000 m. The sea water is so clear that visibility can reach as deep as almost 8 meters, making it a very good choice for scuba diving and snorkeling.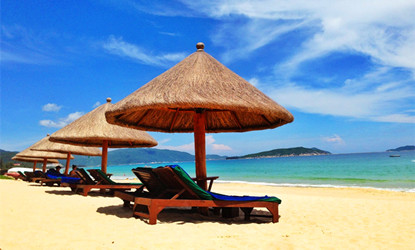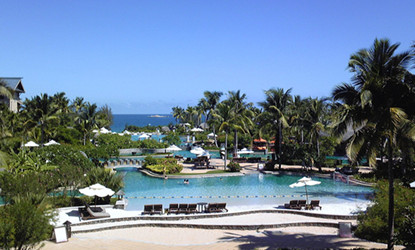 If you just want to lie on the beach, enjoy the crystal-clear water, sandy beach and resorts facilities, Yalong Bay is the best place to be. If you are working in China and want to get away from the city life, then Yalong Bay is your best choice. In Yalong Bay, each resort has private beach area with umbrellas and beach chairs for resorts guests only.
As it is a beach resort, you don't see much local life, only resorts and tourists from all over the world. Sometime you don't feel you are in Sanya, but as if somewhere in Hawaii, Florida or could be any beach resort in the world. There are a few shops and local restaurants & bars in Yalong Bay near Crowne Plaza Yalong Bay.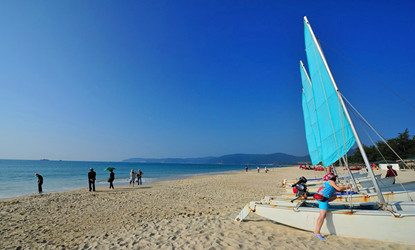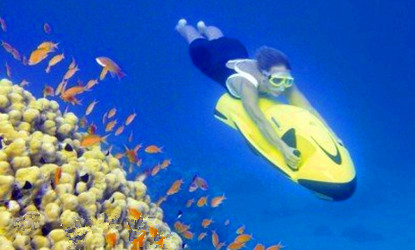 ---
How to get there?
Local taxi costs CNY120-150/way from Sanya Airport to all resorts in Yalong Bay. No driver speaks English at Sanya Airport, so please book a pick up service with Caddie Lu by email her to iaminsanya@gmail.com for private car. If you wish to do some shopping, you could go by taxi which costs CNY60/way or resorts shuttle bus to downtown Sanya. Local bus costs CNY6/way from Yalong Bay to downtown Sanya.
---
Travel Tips
Address : Sanya Yalong Bay National Tourism Resort , Snaya City, Hainan
Opening hours : 08:00-17:30. Yalong Bay Underwater World: 08:00-17:30 throughout the year. Yalong Bay Aegean Dive Resort: All year round 09:00-16:30. Sun Bay Ocean Sports: 08:00-20:00 all year round. Yalong Bay Central Square: 08:00-18:00 throughout the year.
Entrance Fee: CNY 288
---