Chinese food is very rich and colorful. If you go to China, you will find that the abundant, delicious food gives an almost artistic impression and becomes an integral part of your travel experience. There is a great variety of food to cater to even the fussiest eater.
Chinese cuisine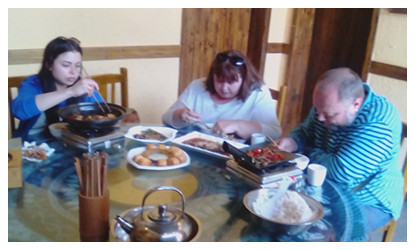 Chinese Cuisine has a very high reputation worldwide and represents the magnificent culture of the nation's almost five-thousand-year old glorious history. The country's very varied cuisine is considered as one of the top three in the world.There are eight top traditional cuisines in China, such as Shangdong (Lu) cuisine, Sichuan (Chuan) cuisine, Jiangsu (Su) cuisine, Zhejiang (Zhe) cuisine, Guangdong (Yue) cuisine, Hunan (Xiang) cuisine, Fujian (Min) cuisine,and Anhui (Hui) cuisine, each of which has its own characteristics.
Chinese Food
The staple food in China is usually rice and wheat. Millet, corn, buckwheat, potato, sweet potato and many kinds of legumes are also common. Apart from rice, wheaten food like steamed bread, noodles, deep-fried twisted dough sticks, steamed stuffed buns, as well as various gruels, cakes and snacks with special local flavors always make the dining table rich and colorful to bring you extraordinary treats.
Western-style dishes
Western-style dishes, which you may crave now and again, can also be found easily in China. Most of the star-rated hotels have a restaurant providing western dishes. In addition, some fast-food outlets, like McDonald's, KFC and Pizza Hut, are not only popular among Chinese people but also offer much convenience for overseas visitors.
---
Where to eat in China?
You can enjoy the delicious Chinese food not only in superior restaurants with many facilities and quality service, but also in ordinary eateries that are much cheaper but still serve delicious dishes. Prices vary, based on the different conditions and the environment. Anyway, wherever you go for a meal, health, sanitation and safety are necessities that you should pay much attention to. Some appetizing local snacks are usually sold at the roadside eateries, night markets or street restaurants that are commonly found in the country.
Food in remote areas or cities, like Lhasa, is not as fine as that in large cities. Besides, there are not so many choices and you may not be used to the local taste, especially in the regions of many minority features and special eating habits.
As a leading travel agency, We,
Zhangjiajie
Holiday, will definitely bring you much higher flexibility to select dishes you like from the menu and enjoy authentic Chinese food to your heart's content. And we will arranges tasty meals for their valued clients if you are going to join a tour of
Zhangjiajie
Holiday.