---
The Forbidden City of Beijing
---
The Forbidden City, also known officially as the Imperial Palace Museum, is located in the center of Beijing City, It is near
Tianmen Square
,
Lama Temple
, and
Hutong
. As one of the top attractions in Beijing, it is the must-see
place for tourists white they travel in Beijing.
History of the Forbidden City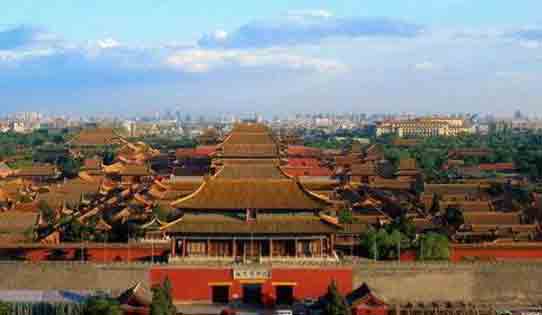 The Forbidden City was originally constructed by the third Emperor of
the Ming Dynasty
, Emperor Yong Le, where 24 emperors once lived successionally. The palace was built between 1406 and 1420, but was burnt down, rebuilt, sacked and renovated countless times, so most of the architecture you can see today dates from the 1700's and on wards. The Forbidden City was the seat of Imperial power for 500 years, and is now a major tourist attraction in China.
What to see ?
The total area of the complex is 183 acres, so it takes quite a while to walk through, especially if you want to have a close look at everything. All together there are 9,999 rooms in the Museum, not all of which can be visited.

1.Four Gates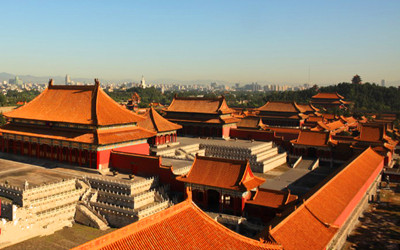 The Imperial Palace is rectangle architecture. It is 961 meters long from south to north and 753 meters wide. There is city wall with 10 meters height around and the moat outside of city wall is 52 meters wide. The Imperial Palace has 4 gates. The Gate of Divine Prowess(Shenwumen) on the north, Merdian Gate(Wumen) on the south, the Eastern Flowery Gate (Donghuamen) on the east, and the Western Flowery Gate (Xinhuamen) on the south. There are 4 corner towers at the 4 corners of city wall and the whole area is 724.250 square meters.
2. Front Court & Back Court
On the whole, the Imperial Palace is divided into two parts: front court and back chamber. Not only in the Imperial Palace, the monarch bed chamber of Ming Dynasty and Qing Dynasty is divided like so. Front court of the Imperial Palace mainly includes the 3 palaces of mid-way and the Hall of Literary Glory (Wenhuadian), the Pavilion of the Source of Literature (Wenyuange), Shang Si Court, Arrow tower, Imperial Hospital, Imperial Tea-house. Qing Embassy and Cabinet Warehouse of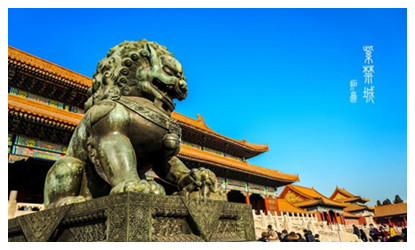 east way. And also Yu Ying Palace. Yan An Palace. Internal Affairs Mansion , Building Office and Nan Xun Palace of west way. Back bedchamber includes Back Three Palaces of mid way (the Palace of Heavenly Purity (Qianqinggong), the Palace of Union and Peace (Jiaotaidian) and the Palace of Earthly Tranquility (Kunninggong).
3. Many Palaces
East Six Palaces, Feng
Xian
Palace, Ning Shou Palace and the Palace of Abstinence(Zhaigong) of east way, West Six Palace, the Hall of Mental Cultivalion (Yangxindian), Ci Ning Palace, Ning Shou Palace kang Palace and Shou An Palace of west way. So you can choose on route or two routes among mid you can choose one route or two routes among mid way (outside court, internal court travel route), west way (internal court west travel route) and east way (internal court east and external east travel route).
Travel Tips
If you are non-group tourist, suggest you rent multi lingual guide record at Menidian Gate (Wumen) and return when you go the Gate of Divine Prowess (Shenwumen). After you visit the Imperial Palace , you go out of the Gate of Divine Prowess (Shenwumen), enter into Jingshan Park and overlook the panorama of the Imperial Palace . In addition, suggest you visit front-street of Jiangshan Park by manpower pedi-cab at cool night of summer. Shining lights are bright and Forbidden City is brilliant. Colored lights from all directions lighten Meridian Gate (Wumen), the Gate of Divine Prowess (Shenwumen) turret, palace wall and other main palaces.
Add:
No.4 Jingshan Front Street,
Dong
cheng District 65132255
| | | |
| --- | --- | --- |
| Ticket Price: | on season | off season |
| Entrance Fee: | RMB 60 | RMB40 |
| Treasure Gallery | RMB10 | RMB10 |
| Clock and Watch Gallery | RMB10 | RMB10 |
| Opening Hour: | 08:30-17:00 | 08:30-16:30 |
| Stop selling ticket | 16:00 | 15:30 |
| Stop entering | 16:10 | 15:140 |
Travel Time:
3-4 hours
Bus Routes:
Take Bus No. 101, 103, 109, 124, 202, 685 or 814, get off at Gugong Station.
Take Bus No. 1, 2, 5, 10, 20, 52, 120 or 802 , get off at Tiananmen East or Tiananmen West Statoin.
Subway:
Take Subway Line1, get off at Tiananmen East or Tiananmen West; Take Subway Line2, get off at Qianmen Station
---