Li River is originating from Mao'er Mountain in Xing'an county, north of Guilin. Li River winds its way south for about 437 km, passing through Guilin City, Yangshuo County, Pingle County and Zhaoping County, finally meets the Xijiang River at Wuzhou City in Guangxi. It boasts the largest and most beautiful scenic area in China and attracts thousands of visitors each year.
Gorgeous Karst peaks give you surprises at each bend of the limpid river under the blue sky. Water buffalo patrol the fields, peasants reap rice paddies, school kids and fisherman float by on bamboo rafts. With its breathtaking scenery and taste of a life far removed from the concrete metropolis, the scenery along the river become one of China's top tourist destinations.
The trip starts from the wharf south of Liberation Bridge in Guilin downtown area. Otherwise some agencies will transport tourists to take a one-hour bus ride to the Bamboo River Wharf (Zhujiang Wharf) or the Millstone Hill Wharf (Mopanshan Wharf) to start the cruise from its essential part.
---
Top Attractions along Li River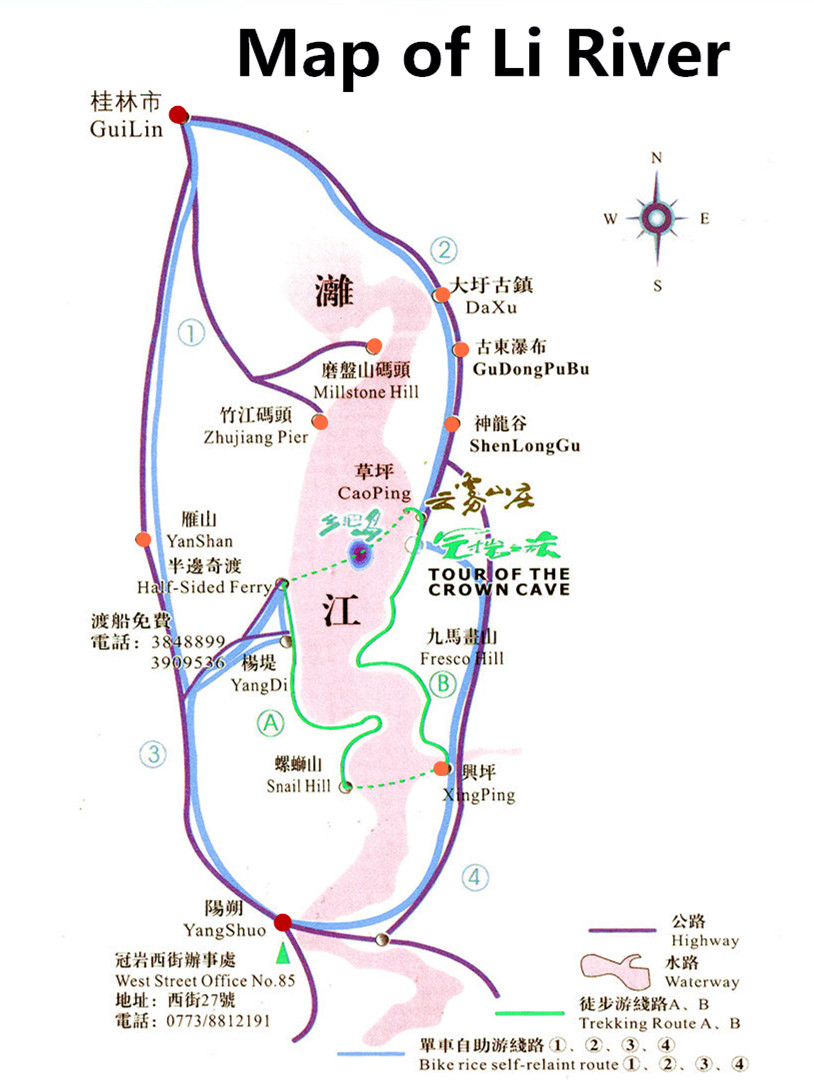 The Li River cruise is over 52 miles (83 kilometers) long and is estimated to take four to five hours. The eye-feasting landscape and country scenery will never disappoint you. The river generally has three sections. Various attractions like peaks and villages along the river have interesting descriptive names, which calls for much of your imagination to see what it is like. Listening to tour guide's legendary stories about the attractions is a delightful experience when you are appreciating the landscapes. Most are mystical fairy and love stories.
Section 1:
In the first section, which is from Guilin to Ox Gorge, you can enjoy the following scenery: Elephant Trunk Hill,Chuanshan Park, Daxu Ancient Town, and Ox Gorge.
Section 2:
In the second section, which is from Ox Gorge (near the Bamboo River Wharf and the Millstone Wharf) to Water-Dropping Village, the most charming scenery of the cruise awaiting you include: Wangfu Rock (Yearning-for-Husband's-Return Rock), Crown Cave, Half-Side Ferry, Yangdi Village, Mural Hill, Xianggong Mountain, Yellow Cloth Shoal, and Xingping Town.
Section 3:
The third section goes from Water-Dropping Village to Yangshuo where you can see Snail Hill, Green Lotus Peak (Bilian Peak), and Shutong Hill (Schoolboy Hill). The scenery is equally beautiful.
---
Travel Tips
1. Notice:
As of August 23, 2017, all tourists taking a Li River cruise are required to show passports when booking ship tickets and boarding. They need to get to the wharf at least 30 minutes before departure to leave enough time for passport inspection. Those who can't provide valid passports should go to the police station near Zhujiang Wharf to ask for a temporary ID proof 30 minutes before departure.
2.Notice:
English-speaking tour guides are only available on the cruises which depart from Zhujiang Wharf, so foreigners are suggested to leave from the wharf for their convenience.
3. Price of Li River Cruise:
Cruise ticket
4-Star Boat 600 CNY+
3-Star Boat 350 CNY+
Bamboo Boat 98 - 118 CNY
Available Hours
depart in the morning
depart in the morning
in the daytime
Period
Around 4hrs
Around 4hrs
Around 2.5hrs on the boat & 3h on the road
Website
http://www.lirivercruises.com