Top City Guide > Lhasa >
---
Lhasa City
---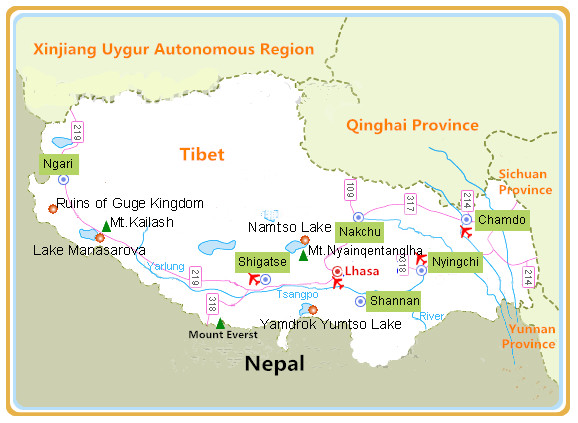 Lhasa is a holy city and capital of China's Tibet Autonomous Region. situated at the roof of the world, Lhasa City is known as " the city of sunshine" and " the land of Gods". Located at an altitude of 3658 meters and at the bottom of a small basin surrounded by mountains and rivers, Lhasa has a mild climate, without extremely cold winter and severely hot summer. Therefore, throughout the year for Lhasa are quite suitable for travelling. Travelers can travel to Lhasa by train and by air.All pervaded sacred religious atmosphere mixed with leisure, happiness and the smell of sunshine, Lhasa has been the destination of travel the beginning of lives for many people.
Facts of Lhasa
Chinese Name: 拉萨 (lā sà)
Location: Located at the bottom of a small basin surrounded by the Himalaya Mountains
Dialing code:
(+86) 0891
Zip Code:
850000
Area: Lhasa has an area of 30,000 sq km. Its downtown area covers 544 sq km.
​
Population:
Lhasa has a population of more than 0.4 million of different ethnic groups such as Tibetan, Hui, and Han. And 14 thousand people live in the downtown city.
City Flower: Galsang flower
---
History Culture
Honored with a long history of 1300 years, Lhasa is quite rich in unique cultural and spiritual resources, especially its Buddhism culture. Today, numerous cultural relics and historic sites covered with thick religious color remain in Lhasa. The attractions of Lhasa do not only lie in its cultural and historic sites, but also in its breathtaking natural scenery.
---
Geography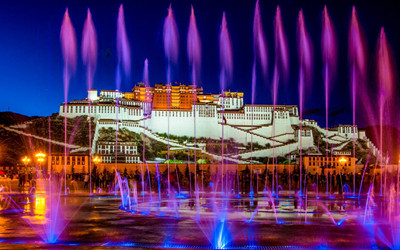 Lhasa prefecture-level city covers an area of close to 30,000 km2 (12,000 sq mi). It has a central area of 544 km2 and a total population of 500,000; 250,000 of its people live in the urban area. Lhasa is home to the Tibetan, Han, and Hui peoples, as well as several other ethnic groups, but overall the Tibetan ethnic group makes up a majority of the total population.
Located at the bottom of a small basin surrounded by the Himalaya Mountains, Lhasa has an elevation of about 3,600 m and lies in the center of the Tibetan Plateau with the surrounding mountains rising to 5,500 m (18,000 ft). The air only contains 68% of the oxygen compared to sea level. The Kyi River (or Kyi Chu), a tributary of the Yarlung Zangbo River), runs through the city. This river, known to local Tibetans as the "merry blue waves,", flows through the snow-covered peaks and gullies of the Nyainqêntanglha mountains, extending 315 km (196 mi), and emptying into the Yarlung Zangbo River at Qüxü, forms an area of great scenic beauty.
Administrative Division: Lhasa is a prefecture-level city that consists of 2 municipal districts (Chengguan, Tuilong Deqing), 6 counties (Linzhou, Dangxiong, Nimu, Qushui, Dazi, Mozhu Gongka)
---
Climate & Weather
Lhasa
has an annual precipitation of 426 millimetres (16.8 in) with rain falling mainly in July, August and September. The rainy season is widely regarded the "best" of the year as rains come mostly at night and Lhasa is sunny during the daytime.
Lhasa features a cold steppe climate (Koppen Bsk). Due to its very high altitude, Lhasa has a cool, dry climate with frosty winters. It enjoys nearly 3,000 hours of sunlight annually and is thus sometimes called the "sunlit city" by
Tibet
ans.
---
Shopping in Lhasa
Tibet has many arts and crafts products full of local flavor and national style, all kinds of Tibetan traditional handicraft products such as wooden bowl, bamboo bowl; and also imitations made in batch processing by Nepal, India and other countries businessman, such as various kinds of bone carving animals. Tourists can buy a lot of goods in Tibet, the famous are like Thangka, Tibetan knife, Tibetan mask, as well as Tibetan medicine and tonic, cordyceps sinensis, saffron, tricholoma matsutake, and so on.
Festivals in Lhasa
There are many festivals in Tibet Autonomous Region. From the beginning to the end of the year, there are over twenty festivals of a year. The festivals are the period for people to get together, dancing and singing. Traditional festivals mostly have relationship with religion, and now the festivals also celebrated for folk-custom and entertainment. The most famous Tibet Festivals are Tibetan New Year, Butter Lamp Festival, Great Prayer Festival, Saga Dawa, Shoton Festival, Horse Racing Festival, Bathing Festival, Onkor/Harvest Festival and so on.
---
Lhasa Tourism
There are many archaeological sites in Lhasa, Potala Palace, Jokhang Temple and Norbulingka is listed as world cultural heritage. The main tourist attractions are Drepung Monastery, Sera Monastery and Ramoche Monastery, etc. The main commercial districts are Barkor Street, Yutuo Road and Lhasa Department Store. And there are geothermal hot springs around the land that have economic value and medical treatment, like Duilong Deqing county Qusang hot springs, Maizhokunggar county Dezhong hot springs.
---