Kunming is the capital city of Yunnan Province in southwest China. Kunming is also known as 'the City of Eternal Spring' for its pleasant climate and flowers that bloom all year long. With a history of more than 2,400 years,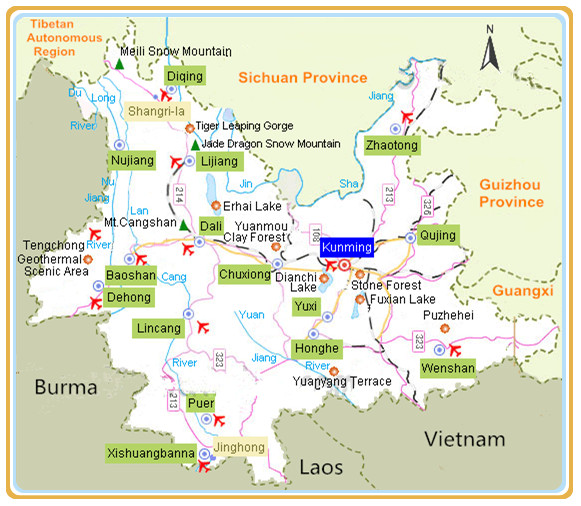 Kunming was the gateway to the celebrated Silk Road that facilitated trade with Tibet, Sichuan, Myanmar, India and beyond. Today Kunmning is the provincial political, economical and cultural center of Yunnan Province as well as the most popular tourist destination in southwest China.
Facts of Kunming
Chinese Name: 昆明 (kùn míng)
Population: about 5.78 million
Nationalities:
Yi
,
Hui
,
Bai
and
Miao
nationalities
Area: about 21,000 square kilometers (about 8,108 square miles) and the area of downtown is about 180 square kilometers (about 69 square miles)
Zip code: 650000
Area code: 0871
---
History of Kunming
Kunming is one of the famous ancient and cultural cities in China. It boasts a history which can be traced back to 30,000 years ago. The Dianchi Lake area was one of the cradles of mankind. The city of Kunming got its name from the Yuan Dynasty (1271 - 1368) and since then, it has become Yunnan's center of politics, transportation, economy and culture.
---
What to see in Kunming?
Kunming is one of the popular tourism cities in China and it serves not only as the provincial center of Yunnan but also as the destination for its snowballing tourism with so many places of interest spread all around the city. Like Guilin, Kunming is also well known for its beautiful and peculiar, breathtaking and unique natural landscape. The city of Kunming is also the focal point of Yunnan minority culture. Some 26 ethnic minorities such as Yi, Bai, Miao, Dai, and Hani inhabit this region. Here lists top attractions in Kunming.
---
When to visit Kunming?
As the saying goes, 'the weather is always like that of early spring, and the flowers bloom all the year round'. Thus, the climate is fine for tourism all year round. The best time is from March to October when you will enjoy not only the stunning natural landscape Like Stone Forest, but also the fascinating minority cultures.
---
How to get to Kunming?
The 144-hour Visa-free Transit in Kunming has been introduced to the city, allowing passengers from 53 countries to have a visa-free layover for up to 144 hours. With convenient transport links in and out of the city, Kunming welcomes and sees off tens of thousands of visitors every day. As southwest China's transportation hub, the city plays a significant role for connecting Southeast Asia and China. The city also provides links to many popular destinations elsewhere in Yunnan such as Dali, Lijiang, and Shangri-La.
---
Kunming Travel Tips
Plan your Kunming Tour? Please See below for some fast facts and useful tips to facilitate your visit to the city whether it is for travel, business or study.