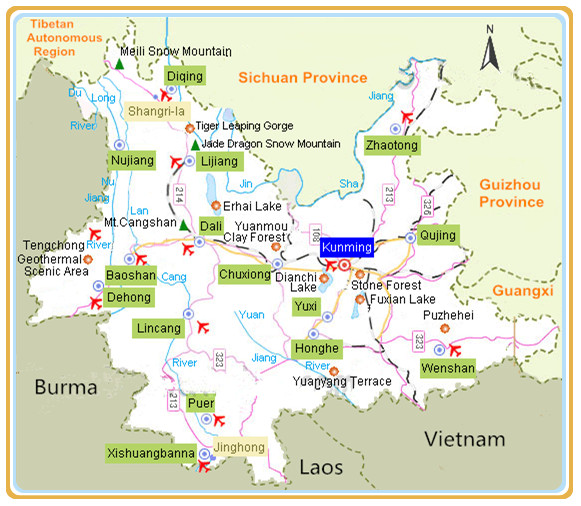 Yunnan Province, which refers to the place south of the colorful clouds, or 'the place south of Yunling (cloudy ridge) Mountain, is the most southwest province of China. Externally, it borders Vietnam, Laos and Burma; internally, it is neighbor to Guizhou, Guangxi, Chongqing, Sichuan and Tibet. The topography changes a lot on this land due to the sharply decreasing altitude. It can roughly be divided into west and east, each with its own very different morphological regions.
In the west, the high mountains and valleys are closely spaced, forming a steep, unusual, and dangerous landscape. The famous Three Parallel Rivers is located here. In the east is the plateau area, which mainly consists of undulating low mountains and round hills. Among the plateaus and mountains are scattered many fault basins, which are called 'Bazi' by the locals. Yunnan is a land of various ethnic groups, landscapes, natural scenery, creatures, etc where one could taste the most aspects of our planet.
Facts of Yunnan
Chinese Name: 云南 (yún nân)
Abbreviation: Dian (滇)
Location: in southwestern China
Area: 394100 square kilometers
Population: 47209.200 (2020)
Nationality: Yi, Hani, Bai, Dai, Zhuang, Miao, Hui and Lisu.
---
Tourism Cities In Yunnan
Yunnan has 8 prefecture-level cities, 8 autonomous prefectures (a total of 16 prefecture-level administrative divisions), 17 municipal districts, 17 county-level cities, 66 counties, and 29 ethnic autonomous counties. Kunming City is the capital of Yunnan Province.
---
Yunnan History & Culture
Yunnan province has perhaps one of the longest and most fascinating histories of any province in China. In fact, settlements have been dated as far back as a million years from human ancestor remains discovered during the building of the Chengdu-Kunming railway in 1965. Its modern population includes 25 ethnic minorities and demonstrates a cultural richness and diversity that rivals any destination, a result of centuries of conflict and cooperation with its neighbors. If you plan your Yunnan trip, you had better learn
history of Yunnan.
---
What To See In Yunnan?
Yunnan, located in the southwest frontier of China,is well known as the "Colorful Yunnan" "South of the Clouds ". It has a good climate, superior geographical environment, unique national conditions and customs, rich local color of the historical and cultural resources. Due to its advantaged resources, Yunnan tourism has developed quickly. Its advantages mainly manifests that the ecology of tourist resources; rich nationality; the diversity of resources; characteristic landscapes; balance of landscapes; mild climate landscapes... More to know all
attractions in Yunnan
, and
all attractions in Kunming
---
---
When To Visit Yunnan?
Yunnan has a generally mild climate with pleasant and fair weather because of the province's location on south-facing mountain slopes, receiving the influence of both the Pacific and Indian oceans, and although the growing period is long, there is little arable land. See Agriculture in Yunnan. January average temperatures range from 8°C to 17°C; July averages vary from 21°C to 27°C. Average annual rainfall ranges from 600 mm to 2,300 mm, with over half the rain occurring between June and August. The plateau region has moderate temperatures. The western canyon region is hot and humid at the valley bottoms, but there are freezing winds at the mountaintops...More
---
How to get to Yunnan?
Yunnan Transportation has been improved since 1978, visitors can get to Yunnan easily by flight, train, or bus. Yunnan, home to some of China's most spectacular ancient villages and natural sites, is an extremely popular tourist destination. It has convenient modern transportation facilities. Kunming, the capital city of Yunnan, is also the transportation hub of Yunnan...Yunnan Transportation
---
Yunnan Travel Tips
Visitors are advised to always carry changes of clothing due to the large variations in temperature between day and night. The climate is relatively dry, so drinking more water, protecting oneself from strong UV radiation at high altitude, and protecting oneself from altitude sickness are all recommended. To lessen the effects of altitude sickness, avoid strenuous exercise and have plenty of rest.