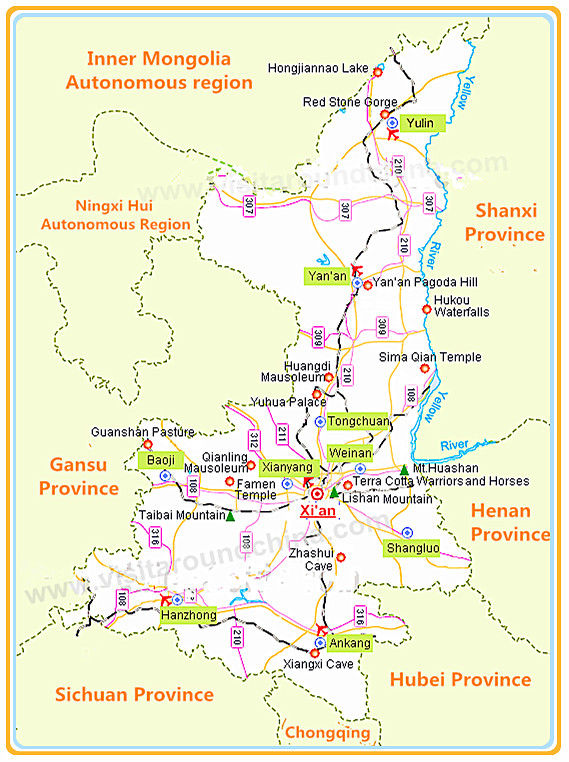 Yan'an is a revolutionary holy place in China which holds a prominent place in Chinese military history.Yan'an City is a prefecture-level city which is situated in Northern Shaanxi Province on the Loess Plateau.A nd Yan'an overlooks the middle reaches of the Yellow River, the cradle of Chinese Civilization.
Facts of Yan'an
English Name: Yan'an
Chinese Name: 延安 (Yan An)
Administration Type: Prefecture-level City
Area: 36,713 square kilometer (about 14,175 square miles)
Population: 1.96 million
Area Code: 0911
Zip Code: 716000
Nationalities: Han, Hui, Uygur
---
History of Yan'an
Called 'Yanzhou' in ancient times, it has a history stretching back about 1,400 years and it has long been the political, economic, cultural and military center of North Shaanxi. Nowadays it is a city which boasts one district and twelve counties. It used to be the military headquarters during the Chinese Anti-Japanese War (1937-1945) and China's War of Liberation (1945-1949) and was the location of the Central Committee of the Chinese Communist Party.
---
What to see in Yan'an ?
Yan'an City has as many as 140 revolutionary sites, including Wangjiaping Site, Yangjialing Site, Date Garden, Pagoda Hill, Nanniwan, etc. It has also a number of historical sites such as Huangdi Mausoleum, Zhongshan Grottoes as well as natural scenic spots including Hukou Waterfalls of the Yellow River, the Cool Hill, Fenghuang Hill and Wanhua Hill. There truly is something for everyone to see.
---
When to visit Yan'an ?
Summer in Yan'an is free from extreme heat, so the months of July, August and September are pleasant and comfortable for a leisurely holiday there. While the Yan'an caves are warm in winter but cool in summer and make excellent dwellings.
Additionally days around the Spring Festival are also suitable for traveling to Yan'an, especially on January 15th according to the lunar calendar known as the Lantern Festival. On this occasion, there will be certain tourist festivals, cultural activities and performances with distinctive local features, showing the folk customs and the art forms of Yan'an.
---
How to get to Yan'an?
Yan'an has benefited greatly from the country's Western Development Drive Program and it is no longer a city with a stunted economic condition and poor transportation. Yan'an used to be a poor city but, in recent years, it has seen great changes including economic advancement, especially the development of some tourism-related industries and infrastructure construction. As a result, transportation in the city is convenient today. It is easily accessible by air, train or coach. As well, buses and taxies facilitate easy transportation within the city.
---
Yan'an Travel Tips
Yan'an Local Products: The abundant special local products, delicious local snacks, distinctive folk customs and various folk art forms of peasant painting, paper-cut, drum art, and folk songs are also appealing to visitors. You will no doubt find your trip to Yan'an very special and memorable.
Yan'an Highlights: This checkered past means that those who are interested in Chinese modern revolutionary history and the Yan'an Spirit which was exhibited in 1942, and is still evident today, or those who want to examine the colorful folk customs and culture of the Loess Plateau, should make sure that they visit the city.
Useful Telephone Numbers:
Municipal Government Hotline: 0911-2136000
Tourist Complaints: 0911-2122742
Tourist Inquiry: 0911-2138211, 0911-2317305
Public Bus Complaints: 0911-2497000
Taxi Complaints: 0911-2494344
Consumer Complaints: 0911-2336315