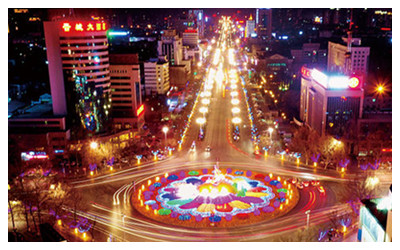 Jincheng City, located in southeastern Shanxi Province, is bordered by Henan Province to the east and south, and neighboring Changzhi City to the north.
Facts of Jincheng
Chinese Name: 晋城市 (jìn chéng shì)
Location: located in southeastern Shanxi Province
Area: 9,490 square kilometers (3,664 square miles)
Population: 2,189,600
Nationalities: Han
Administrative Division: 1 district (Urban District); 4 counties (Zezhou, Qinshui, Yangcheng, Lingchuan); 1 county-level city (Gaoping)
---
History of Jincheng
Jincheng is where the Shennong Divine Farmer helped Chinese ancestors make the transition from a pastoral-nomad way of life to farming. Jincheng was known as Zezhou in ancient times. The Tang (618-907) Court established Jincheng County.
---
What to see in Jincheng?
Mountains and hills constitute the major part of the Jincheng city. Mountainous areas are mainly distributed in the western, eastern and southern territories of the city, while the northern and central land is occupied by undulating hills interweaving with basins. Here lists top attractions in Jincheng.
| | | |
| --- | --- | --- |
| | | |
| Baquan Gorge | Jueshan Mountain | House of Huangcheng Chancellor |
When to visit Jincheng?
Situated in the warm temperate zone, the city enjoys a semi-humid continental monsoon climate. It has four distinct seasons. It seldom rains in spring. Jincheng weather is usually windy and droughts may happen in this period. Summer is torrid and rainy. Autumn is overcast and rainy with cool temperatures. Winter is cold with light precipitation. Jincheng enjoys abundant sunshine and an annual average temperature of 10ºC (50ºF). April to October are suitable time to tour around.
---
How to reach Jincheng?
1. Three main bus stations serve within downtown, the passenger transport central station in Zezhou Dong Lu, Provincial Bus Station in Jinhui Lu and Jincheng City Bus Station in west section of the Hongxing Lu. All these stations operate intercity and interprovincial bus routes and the station in Hongxing Lu also provides buses to counties and towns surrounding the city

2. Jincheng is five hours from the capital city of Shanxi Province, Taiyuan. It is only 120 kilometers (75 miles) from Zhengzhou by expressway, and visitors can reach the Zhengzhou Xinzheng International Airport in about one hour and the Changzhi Airport in about two hours. Due to the great distance to Taiyuan and fewer flights in Changzhi, people usually choose Zhengzhou as the transfer station to Jincheng.
---
Jincheng Travel Tips
1. Special Local Products: Hua Gu (a kind of Chinese mushroom) and monkey-head mushroom of Qinshui County, pears, persimmons, and hawthorn fruit.

2. Useful Telephone Numbers:
Tourist Complaints: 0356-2057555
Weather Forecast: 121
Zip Code Inquiry: 184
Bank of China: 0356-2022329