---
Dunhuang Mogao Grottoes
---
Dunhuang Mogao Grottoes, also known as "the Thousand Buddha Caves", praised as "a glittering pearl that adorns the Silk Road", is a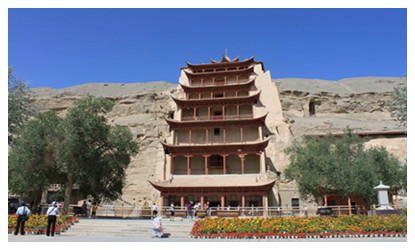 shrine of Buddhist art treasures in China. Located 25 km from downtown Dunhuang, Mogao caves are carved out of the sandstone cliffs of the Singing Sand (Mingsha) Mountains.
Stretching foe over 1600 meters from south to north, Mogao Grottoes still keep 735 caves well-preserved with 4.5 square meters murals, 2415 colored clay statues and more than 50,000 historical relic, from all of which a new study – Dunhaung Studies – derived. Due to its brilliance in ancient culture, Mogao Grottoes was added to the World Cultural Heritage list by the UNESCO in 1987.
---
History of Mogao Grottoes
Hailed as the most valuable cultural discovery in the 20th century, Mogao Grottoes gets great fame all over the world for exquisite murals and sculptures. The construction started from year 366 during the Sixteen Kingdoms Period (304-439) and lasted in following dynasties for almost one thousand and five hundred years, which make Mogao Grottoes a sacred land of Buddhism finnaly.
According to Tang Dynasty records, a monk had witnessed onsite a vision of thousand Buddhas under showers of golden rays. Thus inspired, he started the caves construction work that spanned ten dynasties. Mogao Caves are commonly known as the Caves of a Thousand Buddhas. The Mogao Caves are a depository of historical and cultural exchanges over more than a thousand years between China and other nations. The level of cultural information available here has spawned a whole new field of study called "Dunhuangology".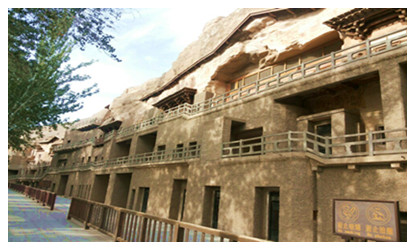 Most of the paintings can be divided into one of seven categories that include jataka stories that depict beneficence to Sakyamuni in his previous incarnations, sutras illustrating suffering and transmigration, and traditional Chinese mythology. Many caves were restored during the Yuan Dynasty. The murals depict various Indian mandalas and bodhisattvas. Some caves were decorated in the
Tibetan
style. During the Ming Dynasty,
Dunhuang
was abandoned, and the caves gradually faded into the sand of the Gobi desert until a Taoist priest discovered the treasure house in beginning of the 19th century.
In modern times, the Cave of Buddhist Scriptures was accidentally discovered and the Mogao Grottoes re-attracts attention from all over the world. Tragically, a large amount of rare scriptures were stolen. A new branch of international studies, the
Dunhuang
Studies, has come into being for the research on scriptures of this cave and Dunhuang's art.
The painted clay figures and the murals in Mogao Caves came into being at the same time. The ensuing thousand years witnessed their recreation, perfection as well as absorption of the merits of western ancient arts from India, Greece, Iran etc on the national basis. It has become a brilliant pearl in the Chinese art treasure troves.
---
What to see ?
The Mogao Grottoes is a popular toursist attraction when you travel to Dunhuang. Please notice that no photo within the caves! That's a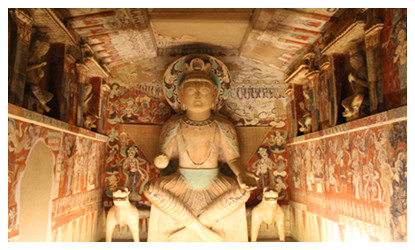 way to protect the relics and an electronic torch maybe necessary to see inside the caves.The existing 735 caves of Mogao Grottoes can be divided into the southern area (with 487 caves) where monks held Buddhist activities and the northern area (with 248 caves) which was mainly used as a place where monks cultivated and lived as well the graveyard where monks were buried after their death. According to statistics, 492 of the 735 caves are home to existing murals and sculptures.
Mogao Grottoes is the largest, oldest and the best-preserved Buddhist grottoes with the richest contents in the world.All of murals of Mogao Grottoes can stretch for over 30 km if arranged in a line. The themes of the murals are various, ranking from Buddhas, flying Apsaras, fairy maidens to stories about Buddhist sutras, with exquisite vignettes. Among the over 2000 colored statues of Buddhas in Mogao Grottoes, there is one sitting Buddha reaching as high as 33 meters as well as one is less than 20 centimeters in height. In addition, a great number of ancient Buddhist sutras, writs, scroll paintings, and so on, have also been found in a closed stone room in Mogao Grottoes.
---
Travel Tips
Add: 25 km southeast of Dunhuang City, Gansu Province.
Ticket Fee: April to October: CNY180 (sale of tickets stops at 16:30); November to March: CNY120 (sale of tickets stops at 16:00).
Opening time: - May to October: 08:15-18:00; - November to April : 09:15-17:30.
---