Day 01: Arrive in Beijing
Welcome to Beijing, the capital of China, rich in history and culture.
Your lifetime China tour begins with welcome from your local guide at the Beijing airport. Then be escorted to your hotel in a private vehicle. The rest of today is yours to acclimatize or explore the vast metropolis on your own.
Meals: No Accommodation: Beijing City
---
Day 02: Beijing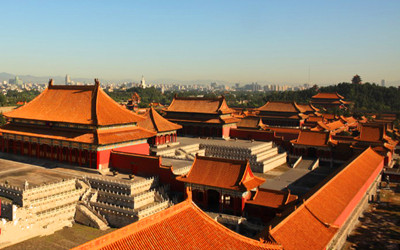 After breakfast, start to explore the historical face of Beijing with a brief visit to Tiananmen Square, now the largest city plaza in the world. Tiananmen Gate on the northern side of the square was the site where Chairman Mao announced the establishment of the People's Republic of China. Stepping into the Tiananmen, you will see one of the world's five most important palaces – the Forbidden City, a huge palace complex of more than 9,000 rooms where 24 emperors of the Ming and Qing Dynasties lived. Pass through various doorways in this magnificent structure to admire the beautiful and well preserved buildings decorated with yellow-glazed tile roofs, white marble bases and splendid colorful paintings.
Next activity is to hop on a rickshaw to experience Beijing Hutongs – small alleys made of neighboring quadrangle dwellings. Shuttle among different Hutongs to feel the old Beijing life style, meet various antique shops and small boutiques, feel the historical changes of Beijing.
After lunch, drive to the outskirts of Beijing to spend an enjoyable time in the Summer Palace, the largest and best-preserved royal garden in China. Stroll around ancient pavilions, mansions, temples, bridges and corridors while feasting your eyes on the vast lotus in Kunming Lake and the colorful paintings in the Long Corridor.
Meals: B/L Accommodation: Beijing City
---
Day 03: Beijng
After breakfast, drive from your hotel to visit the imperial site – Temple of Heaven. It was originally used to pay homage to Heaven and pray for harvest, now becomes a bustling place for locals to take part in traditional activities, such as Tai Chi, dancing, kite flying, water calligraphy, etc.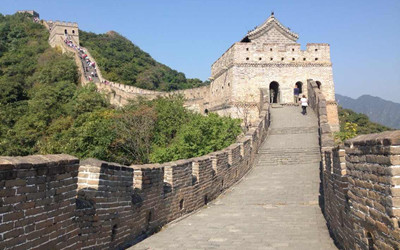 The rest of today is to drive about 70km to witness one of the Seven Wonders of the World - the Great Wall. You will visit the Mutianyu Great Wall, a less crowded yet well-preserved segment of the Great Wall built in the Ming Dynasty. It will more than live up to all of your expectations! This great wall, linking Gubeikou in the east and Juyongguan in the west, was served as the vital military strategic point in the ancient time. Moreover, Mutianyu section is the "longest great wall in China" so far and since protection work is well done here, tourists can now see its original appearance and enjoy the real ancient culture of great wall. Also, spectacular natural scenery in Mutianyu Great Wall always impresses visitors here for its abundant vegetation. You'll take a cable car to ascend the Great Wall, then hike the most beautiful and interesting part of Mutianyu and climb up its rising towers to enjoy scenic views of the wall as it wriggles along mountain ridges and you take brag-worthy photos. After the exciting time, descend by cable car. (Note: If energy permits, you can hike up or down which takes about 40 minutes to climb steps. Please tell your likes to your travel consultant.) After the Great Wall visit, drive back to Beijing city and take a short stop at the Beijing Olympic Village to see its famous Bird's Nest and Water Cube from the outside.
Optional activity: After the whole day's tour, treat yourself a great dinner to taste the famous Peking Roasted Duck at Quanjude.
Meals: B/L Accommodation: Xi'an City
---
Day 04: Beijing-Xi'an (by flight)
This morning you will be transferred to the airport in time for your flight to Xi'an. Upon arrival, be met by your local tour guide, and start to explore Xi'an Ancient City.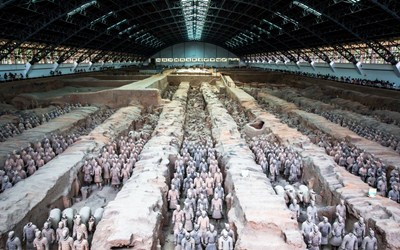 Drive about 40km to discover one of the greatest man-made wonders in the world –
Terracotta Warriors and Horses
, built by the first emperor Qin Shihuang to protect his afterlife. Over 8, 000 life-size warriors, horses and chariots, buried in 3 pits more than 2000 years until uncovered by local farmer in 1974, forms an ancient military army with complete battle unites, such as infantry, cavalry, etc. Standing in front of these figures, one can't help being amazed not only by the ambition of Qin Shihuang but also the fabulous artistic skills of ancient Chinese artisans.
In the afternoon, take a wonderful stroll on
the Ancient City Wall,
the largest and best-preserved ancient city wall in China. Enjoy panoramic views of modern Xian and walk leisurely on the well-maintained city wall which is 12 meters high and 18 meters wide with a total circle of nearly 14 kilometers. It is followed by a relaxing wandering around bustling and lively Muslim Community, where you can taste the most delicious Xian food and various snacks, as well as experience local culture.
Optional activities:
1. Take a relaxing cycling on the Ancient City Wall;
2. Enjoy a wonderful Tang Palace Dance Show after a hearty dumpling dinner.
Meals: B/L Accommodation: in Xi'an City
---
Day 05: Xi'an-Chengdu by flight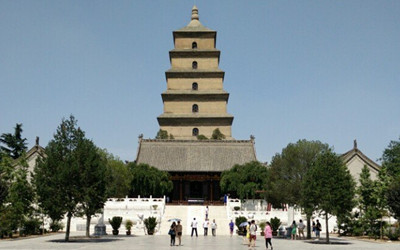 After breakfast, head to Da Cien Temple, a famous Buddhist sutra translation place in Tang Dynasty. Big Wild Goose Pagoda is the most famous building in the temple. With a height of 64.5 meters, the pagoda was built by the famous Buddhist master Xuanzang to reserve classic scriptures he bought from India in early Tang Dynasty. (Xuanzang, the prototype character of Tang Seng in the novel of Journey to the West). (Note: It charges extra 30 RMB to climb up the Big Wild Goose Pagoda)
Following is an educational visiting to Shaanxi History Museum. Ramble in the modern exhibition halls to appreciate relics, such as porcelains, paintings, currencies from Zhou to the Tang periods (1100BC to 907 AD). (Note: Shaanxi History Museum may be replaced with other activity or attraction because of crowding tourists during July ~ early September and China's National Day during Oct.1-Oct.7. You may check details with your travel consultant.)
The rest of today is free for you until get escorted to catch flight to Chengdu, capital city of Sichuan in China. Upon arrival, you will be welcomed by local tour guide, and transfer to your hotel in downtown.
Meals: B/L Accommodation: Chengdu City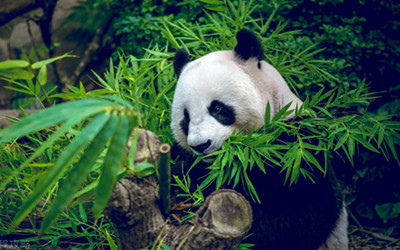 On this day, you will visit the
Chengdu Research Base of Giant Panda Breeding
to spend a cheerful morning with these lovely pandas, followed by a trip to theWenshu Temple where you can spend some time sitting in its tea house enjoying a cup of traditional Chinese tea and absorb the special atmosphere of Chengdu and Jinli Old Street.In the evening, you can choose to enjoy Sichuan Opera to admire the unique face changing skill in it.
Meals: Breakfast/Lunch Accommodation : In Chengdu
---
Day 07: Chengdu-Chongqing-Yangtze Cruise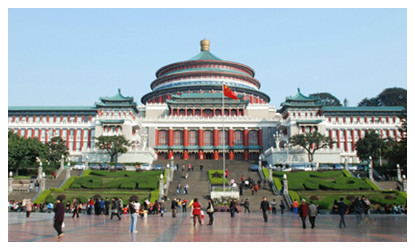 You will be free until your local guide escorts you to the railway station for your bullet train to Chongqing. Upon arrival, your local guide will meet you and transfer you to the Chongqing City and you will have city tour including Yangtze River Cableway, Chongqing Zoo, Three Gorges Museum and the Auditorium at Renmin Square from outside before embark the Yangtze Cruise ship.
Note:
shore excursions may differ from different cruise companies.
Meals: Breakfast/Lunch Accommodation : Yangzte Cruise
---
Day 8: Yangtze Cruise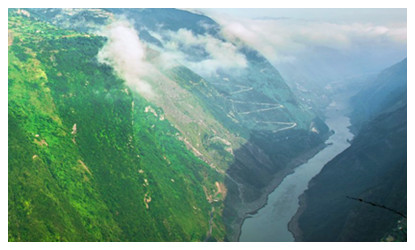 Your memorable Yangtze Cruise begins. Various activities onboard will expand your preparation for Yangtze exploration. Your ship will stop for a shore excursion at the famous Fengdu Ghost City where you can learn about China's afterlife culture.
After, you'll re-board the ship and continue your cruise. Usually there will be a welcome party hosted by the captain in the evening, this is the best chance to make new friends and be immersed in the staff's hospitality. So dress up and be ready to enjoy.
Meals: Breakfast/Lunch Accommodation : Yangzte Cruise
---
Day 09: Yangtze Cruise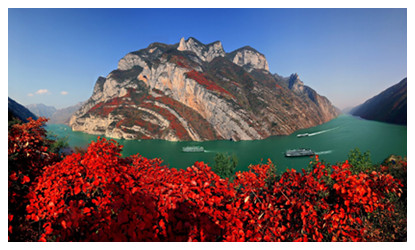 Besides the enchanting landscape along the Yangtze River, today's sightseeing will be highlighted by the shore excursion to Lesser Three Gorges. You will take a local sampan to enter the fabulous gorges. Deep gorges, green mountains, crystal waters, appalling cliffs, thriving groves and perhaps native wildlife make this excursion worthwhile. Back to your ship after the stop, the ballroom maybe an
deal place to party the night away.
Meals: Breakfast/Lunch Accommodation : Yangzte Cruise
---
Day 10: Yangtze Cruise-Yichang - Zhangjiajie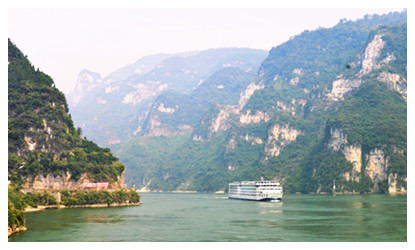 Today the last shore excursion takes you to the Three Gorges Dam, the world's largest hydroelectric complex Mingled with local natural landscape, the Dam can boast as the newest scenic spot on the river.
After the Yangtze Cruise, you will be met by your local guide at the disembarking pier and transferred to Zahngjiajie by coach (about 5 hours driving) or by train.Upon your arrival at Zhangjiajie, your local guide is ready to meet you and escort you to your hotel.
Meals: Breakfast Accommodation : In Zhangjiajie
---
Day 11: Zhangjiajie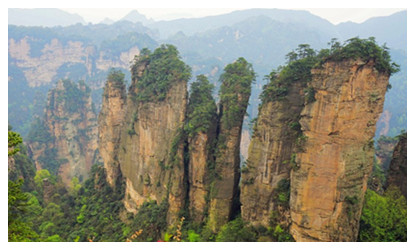 After breakfast at hotel , transfer to Zhangjiajie National Forest Park, and you will visit Yellow Stone Village by round trip cable cars. The Yellow Stone Village lies to the west of Zhangjiajie Forest Park with an altitude of 1,206 m and covers an area of 250 mu. There is a popular saying that you cannot say that you have been to Zhangjiajie if you don't visit Yellow Stone Village, the most popular scenic spots are Six Strange Pagoda, Picking Up Star Platform, Five Finger Peaks and so on.After lunch, you will trek about 3 hours along the Golden Whip Stream, which is located in Zhangjiajie National Forest Park, it covers a distance of 7.5 km from north to south, winding across mountains and valleys. The brook is limpid through the year, with many scenic spots along the way. At the same time you can have a free oxygen show when you are explore this beautiful valley.
Remark:
Tonight, you can also be charge USD 50/pax by yourself to enjoy the famous show --
Charm Western Hunan
Meals: Breakfast / Lunch Accommodation: In Wulingyuan
---
After breakfast at hotel, transfer to take
Bailong Elevato
r up to
Yuanjiajie Scenic Area.
Yuanjiajie is also called AVATAR Mountain for the movie AVATAR is filmed here. Located in the northwest part of the Zhangjiajie National Forest Park, Yuanjiajie is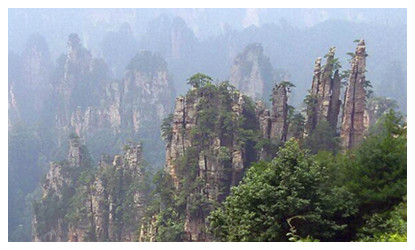 a naturally formed platform mountain, surrounded by higher summits which are divided by deep valleys. You will enjoy Hallelujah Mountain, NO.1 Bridge in the world and so on.After lunch, take bus about 40 minutes driving to He Long Park, and visit
Tianzi Mountain.
Tianzi Mountain is known for 4 natural spectacles, the clouds of mist that circle the peaks of the mountain, the amazing views of the rising sun, the moonlit nights and snow capped winter peaks. They include more than 80 natural platforms to take in the magnificent scenery. Then take Tianzi Mountain cable car down and continue to visit Ten-mile Gallery by trams in Suoxiyu Scenic Spot.
Remark: Your tour guide can decide if you visit Yuanjiajie at first or Tianzi Mountain at first so as to get rid of a long time waiting for a line when you take Bailong Elevator and Tianzi Mountain Cable way.
Meals: Breakfast / Lunch Accommodation: In Wulingyuan
---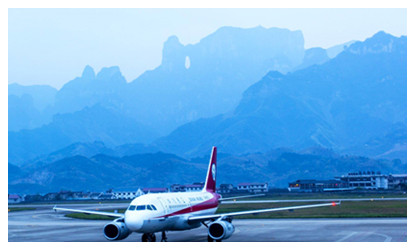 Day 13: Zhangjiajie (Tianmen Mountain-Tujia Customs Park)
After breakfast at hotel, you will visit Tianmen Mountain National Forest Park by cable cars. Tianmen Mountain is praised as "the Soul of Zhangjiajie". With 1518 meters above sea level, it is standing at the site of 8 km south away from Zhangjiajie Downtown.Today you can explore the six wonders of Tianmen Mountain,including Tianmen Cave, Tontian Avenue, The Ghost Plank Road, Glass Skywalk, Tianmen Temple, etc. Then take flight to Shanghai,Arriving in Shanghai our local driver will pick you up from airport and transfer to hotel.
Meals: Breakfast/Lunch Accommodation : In Shanghai
---
Day 14: Shanghai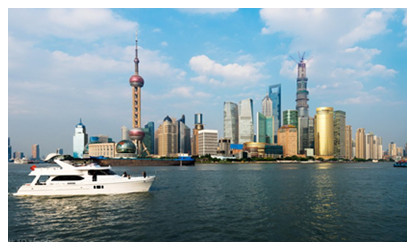 In the morning, our tour guide will meet you at hotel lobby at confirmed time. The first stop is Shanghai Old Street. You will find some taste of Old Shanghai in 1920th. Walking along the street you will come to Yuyuan Garden, that garden used to be a private garden of Pan family and after establishment of new China it is open to public. Next you will be escorted to the Bund where you could see the best scenery of old and modern Shanghai. After lunch go to visit the most charming area of Shanhgai, Tianzifang, the place mixed of old and modern, food, art, music. The last stop will be Old French Concession which used to be one of the two largest concessions in Shanghai. Finally you will be escorted back to hotel.
Meals: Breakfast/Lunch Accommodation : In Shanghai
---
Day 15: Shanghai/ Departure