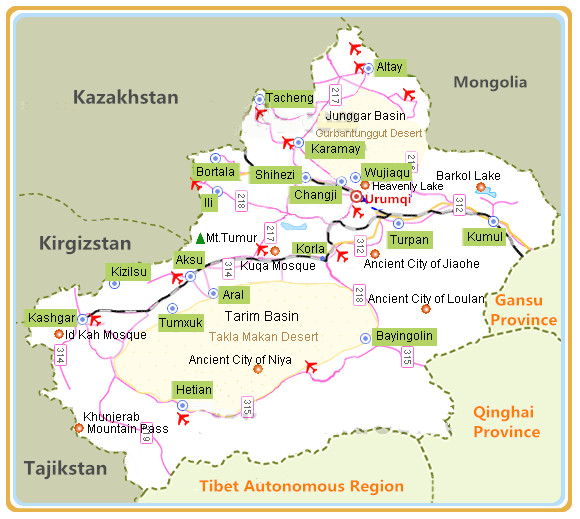 Turpan, also Turfan, is a prefecture-level City in Xinjiang Uygurs Autonomous Region. It is 180 kilometers southeast of Urumqi City in the east part of Xinjiang, which is located in the Turpan Depression at the southern foot of Tianshan Mountains. As one the popular toursim city and a n important stop on Silk Road Tour,Turfan is a traffic hub linking the southern part and northern part of Xinjiang together and linking Xinjiang with the hinterland of China.
Facts of Turpan
Chinese Name: 吐鲁番 (tǔ lǔ fān)
Location: in the east of XInjiang Uygurs Autonomous Region
Area: 15,738 square kilometers
Population:650.300
Nationality: Uygurs
Area Code: 0995
Zip Code: 830000
Administrative Division: Gaochang District, Shanshan County, Toksun County
---
History of Turpan
is an old city with a long history. Traces have been found of humans living there, dating as far back as 6,000 years ago. The city was known as Gushi in the Western Han Dynasty (206BC-24AD); and in the Ming Dynasty (1368-1644), it got its name Turpan, which means 'the lowest place' in the Uygur language and 'the fertile land' in Turki. Lying in the Turpan Basin, the elevation of most of the places in the area is below 500 meters (1,640 feet). Turpan is the city with the lowest elevation in China.
---
What to see in Turfan?
Turpan is a marvelous city blending Western and Eastern religions and culture together perfectly. Its geographical position is rather important. Lying at the junction of the east and the west of China, it has been a key point on the Silk Road since ancient times, with a great number of historical relics as well as unique landscapes. Here lists top attractions in Turpan.
| | | |
| --- | --- | --- |
| | | |
| Turpan Grape Valley | Xinjiang Flaming Mountain | Turpan Karez System |
| | | |
| Turpan Emin Tower | Gaochang Ancient City | Jiaohe Ancient City |
| | | |
| Turpan Museum | Xinjiang Aydingkol Lake | Turpan Sand Therapy Health Center |
---
When to visit Turpan?
Turfan city, which is also known as Huo Zhou (a place as hot as fire), is the hottest place in China. The annual average temperature is 14

C (57.2

F). It is reckoned that there are 152 summer days on average, and 28 really broiling days with the temperature above 40

C (104

F). Although the high temperature can be oppressive people can also get some benefits from it. The abundant sunshine gives the melons and grapes ideal conditions to grow. The fruit here is widely known for its high sugar content, especially the grapes. The place is praised as the 'Hometown of Grapes' and the Grape Valley is a good place to enjoy the grapes of hundreds of varieties. Apart from that, the locals are quite fond of sand therapy which has a history of hundreds of years. People lie or sit under sheds, burying their bodies in hot sand about 50

C (122

F) to 60

C (140

F). It is said to be a good way to treat rheumatism and skin ailments. There is a Sand Therapy Center in the northwest of the city which is popular among visitors.
---
How to get to Turpan?
Turpan is an important city along the ancient Silk Road and the transportation here is very convenient. It is considered to be the hub between Xinjiang and the eastern part of China. As well as the usual vehicles, there is a special 'donkey taxi' here. It is a kind of flatbed drawn by donkey. Visitors can sit and ride on the vehicle to get a broad overview from a leisurely look around the city.
---
Turpan Travel Tips
Shopping in Turfan: As a city inhabited by minority groups, you can find Uygur snacks in the streets and lanes. Kebabs, Zhua Fan (Rice Eaten with Hands), Nang, Roast Lamb will make your mouth water. There are also many traditional drinks there, including milk tea, black tea, grape wine and mare's milk. The traditional handcrafts are exquisite and are worth collecting. Carpets, clothes, caps and knives are favorites, with distinctive folk characteristics.
Dining & Nightlife: The city has star-level hotels as well as economy hostels. Nearly all of them have their own grape wines and wineries. Visitors can take a walk or taste the sweet grapes under the grape vines. Traditional Uygur singing and dancing shows can be seen there, too.