---
Altay Travel Guide
---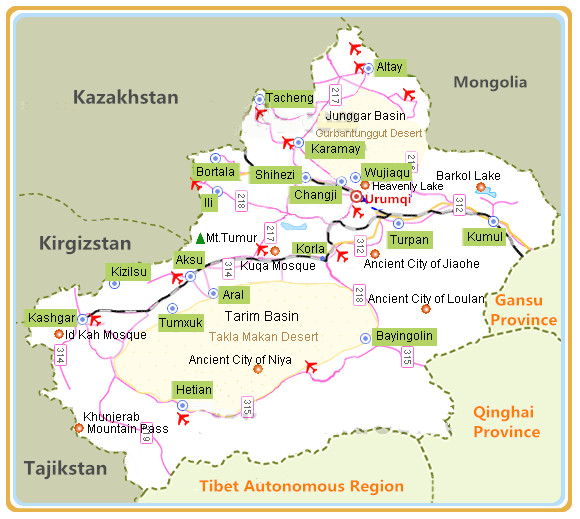 Altay is a prefecture which is located at southern foot of Altay Mountains in the northeastern pari of
Xinjiang Uygur Autonomous Region
. Being an important section of the ancient prairie Silk Road, Altay adjoins the People's Repaublic of Mongolia, Kazakstan and Russia.The borderline is as long as over 1,100 kilometers. The location of the administrative agency -- Altay City -- is 666 kilometers from Urumqi via the No.216 highway, but 707 kilometers away via the No.217 highway. Under its administration are six counties and one city, with a population of 568,300, with most of the people being of ethnic minorities such as the Kazaks, Mongols, Uygurs, and Huis.
Facts of Altay
English Name: Altay Prefecture
Chinese Name: 阿勒泰(á lê täi)
Location: in the north of Xinjiang
Capitai City: Altay City
Area: 117989 square kilometers
Population: 671, 616(2017)
Nationality: Kazakh, Hui, Uygur, Mongolian,Han
Administrative: Altay Prefecture has under its jurisdiction one city (Altay) and 6 counties (Qinghe, Fuyun. Fuhai, Jeminay, Burqin and Habahe), and has a population of 55 ten thousands.The government of the Altay Prefecture is located in Altay City.
---
History of Altay
Altay is an important section of the ancient prairie Silk Road.With advantageous geographical conditions and fertile mountain prairies, here are pregnant in ancient civilizations Archaeologists have found a Paleolithic site by the northern bank of the Ertix River, which verifies That as early as 8000 9000 years ago, 1984, Altay was founded as a prefecture under Xinjiang.
---
What to see in Altay?
Altay region has four trading ports and nine roads. The famous tourist sites are the Kanas Lake Nature Reserve, the Ulungu Lake Resort, the White Sand Lake, the Mingsha Mountain, and the Qierqiek ancient tombs and grassland stone figures. Altay is also known for its cultural relics, boasting pictures on the rock faces, color paintings on the walls of the caves, and carved figures from art galleries. By the end of 2016, Altay region has 2 international 5A-level tourist attractions and 4 national 4A-level tourist attractions.Here lists top attractions in Altay.
---
When to visit Altay?
Altay region is located in the hinterland of Eurasia and has a high latitude. It is a typical temperate continental cold climate. It is characterized by dry heat in summer, cold in winter, low precipitation in plain areas, large evaporation, large temperature difference between day and night, and sufficient sunshine. More monsoon years. The average annual temperature is 0.7 °C - 4.9 °C, the extreme minimum temperature is -51.5 °C, and the extreme maximum temperature is 42.2 °C. The average annual precipitation in the plain area is 131-223 mm, the annual evaporation is 1367-2066 mm, the frost-free period is 123-152 days, and the annual sunshine hours are 2829-3045 hours.
Altay region has a cultivated land of 176,200 hectares, a grain-sown area (including re-sown area) of 48,200 hectares, and a cash crop-sown area of 56,800 hectares. It has a northern temperate frigid-section continental climate.So, the best time to visit Altay is from June to September.
---
How to get to Altay?
Altay Airport has daily flights to and from Urumqi City. Beitun Railway Station is the end of the Kuiitun -Beitun Railway. The starting point of the Kuitun-Altay Expressway is Kuitun, northward through Karamay, Fuhai, Beibei, and to the end of Altay City. So the traffic to traveling from and to Altayis convenient.
---
Altay Travel Tips
Ayates Festival is one of the ancient celebrations of the Kazakh nation. At some time each autumn, the singers and herdsmen, Aken, gather together, embrace Dongbula, improvise poetry, sing and sing, and the herdsmen come together to sing and dance, gather together, form a Etters. Ayates is a national event of the Kazakh national tradition in the Altay region and one of the most lively festivals of the year.

Altay Big Tail Sheep is an excellent sheep breed in China, mainly living in the Altai Mountains of Xinjiang. The shape of the big-tailed sheep is characterized by a medium head size, a slightly raised nose, a large ear and a drooping ear, a high and firm leg, a full-featured muscle, and a brown-red color.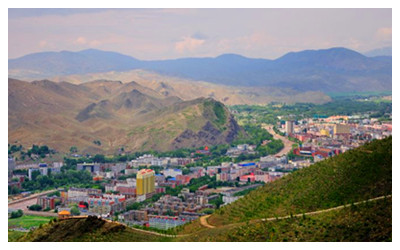 Altay region -- one of the areas rich in water resources -- has 56 big and small rivers represented by the Ertix River and the Ulungu River, with a total annual run-off of 133.7 hundred million cubic meters and a reserved water-energy capacity of 3,420,000 kilowatts.
Altay Mountain has been a producer of gold since ancient times, and 84 kinds of ore in 11 categories have been found in its territory, with a proven mineral reserve of 41.
The region has an available pastureland area of 7,239,000 hectares, 14.3% of the total pastureland area in Xinjiang. It has a mountainous forest area of 690,000 hectares and a living forest reserve of 9,110,000 cubic meters. The valuable species of trees are the Siberia fir, the fir, and the red pine; the river valley forest area is 255,000 hectares and the living forest reserve is 1,120,000 cubic meters, dominated by poplar and white birch.
---