---
Kashgar Travel Guide
---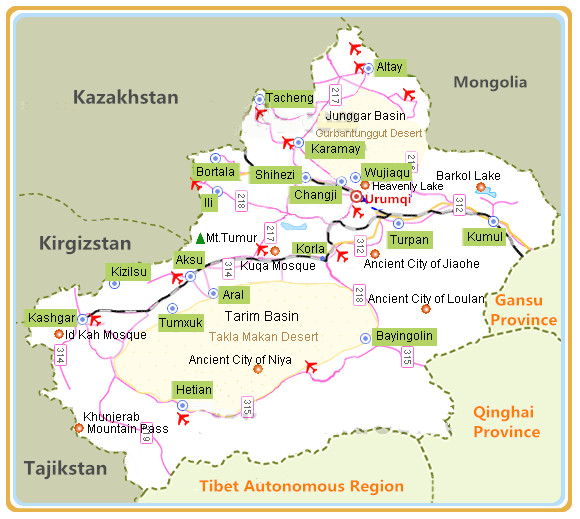 Kashgar City is bordering the Taklamakan desert in the east, the Kunlun Range and Ali prefecture of in the south, east of Xinjiang Region.It is close and borders with Tibet Autonomous Region, Taklimakan Desert, Afghanistan, Kazakhstan, Tajikistan, Kirghizia, Pakistan
Kashgar Facts
Chinese Name: 喀什 (kā shí)
Population: 200, 000
Total Area: 162,000 square kilometers
Nationalities: Han, Hui, Uygur, Kyrgyz, Tajik and Uzbek
Zip Code: 844000
Area Code: 0998
Administrative Division: one city (Kashgar City) and eleven counties
---
History of Kashgar
It has a history of more than 2000 years; belonged to the Zhuangpu prefectural General's Office of the HunIn in Han dynasty; thereafter, submitted to the authorities of the Western Han dynasty after the trading links with Han formed by Zhang Qian - the special envoy to the Western Region sent by Emperor Wudi; one of the four important towns in Anxi during Tang dyansty; later becoming the seat of government of the Kashgar Councillor in Qing dynasty.
What to see in Kashgar?
Two river systems of the Yarkant River and the Kashgar River with a total annual runoff of 10.9 to 11.9 billion cubic meters; located at the west of the Taklamakan Desert at the feet of the Tian Shan mountain range. Here lists to attractions in Kashgar?
| | | |
| --- | --- | --- |
| | | |
| Kashgar Ancient City | Abakh Khoja Tomb | Kashgar Id Kah Mosque |
---
When to visit Kashgar?


It boasts
mainly a continental climate; long periods of sunshine and little rainfall; vary greatly with topography as plain climate, desert climate and mountain climate; frost-free period of 215 days; short warm winter and long cool summer; vary considerably between day and night; clear four seasons.Average Temperature: 11.7 C annually with the lowest of -24.4 C and the highest of 40.1 C Rainfall: 27 mm annually.
The best time to pay a visit is between August and September, when the sky is blue and there is blossom and fruit on the trees. It is recommended that you wear a light top with long sleeves and a hat for protection from strong UV radiation.
---
How to get there?
Kashgar, located in the western part of China, has been the transportation hub in southern Xinjiang for thousands of years. It was in fact the strategic point of the Silk Road in the ancient time, connecting China with Eurasia. It is easily accessible by air, train and bus from Urumqi, the capital of Xinjiang. There are even daily flights to Urumqi and also international airline services to Islamabad, Osh and Andijan from this airport.
By Air: Built in 1953, Karshgar Airport is the second largest airport in Xinjiang Province. With more than 60,000 square meters (about 14.8 acres) available for ground handling of aircrafts along with an area of 28,000 meters (about 6.9 acres) devoted to runway traffic, The airport is quite capable of accommodating incoming and outgoing flights to destinations including but not limited to Urumqi, Hotan, Kuqa and Aksu. It also has international flights available to cities such as that of Kirghizia and Uzbekistan. In the large and spacious main terminal building, restaurants, stores, and several airline ticket offices are available for the comfort and convenience of travelers.
By Train: Kashgar Railway Station is also a transportation hub in western China. The city's Railway Station, being the last station in southern Xinjiang, is only about 5 kilometers (3.1 miles) away from the city center and takes about 15 minutes' drive. It is also connected with city center by buses No.26 and No.28. Currently, there are three pairs of trains running to and from Urumqi here. In the future, international trains to Pakistan will also be operated from here.
There are several regular daily train and bus services plying between Urumqi and Kashgar. Its developed highway, centred at the city, extends to 8 directions: northeast to Aksu, Korla, Turpan; southeast to Shule, Hetian, Yengisar, Ye Cheng; east to Dunhuang in Gansu Province and Golmud of Qinghai Province. There is also Zhong-Ba International Highway (China to Pakistan) leading to Pakistan as well.
By Bus : Kashgar International Bus Station is located on Jie Fang Nan Lu. From the station, visitors can go to other cities in and around Xinjiang. To the northeast, buses go to Aksu, Korla, Turpan and Urumqi; to the southeast, go to Yengisar Shule and Shache; to the east, to Dunhuang in Gansu Province and Golumd in Qinghai Province.
---
Kashgar Travel Tips
Kashgar Airport, located about 10 kilometers (about 6 miles) north of city center, is capable of accommodating incoming and outgoing flights to destinations both domestic and international, including Urumqi, Hotan, Kuqa, Aksu, Kirghizia, Islamabad, Osh, Andijan and Uzbekistan. Kashgar Railway Station, only about 5 kilometers (3.1 miles) away from the city center, has daily trains running to and from Urumqi. It is also easily accessible by long-distance bus to go to other cities in and around Xinjiang from Kashgar. Traveling around the city, the city-bus and taxi are good options.
---