---
Hami Travel Guide
---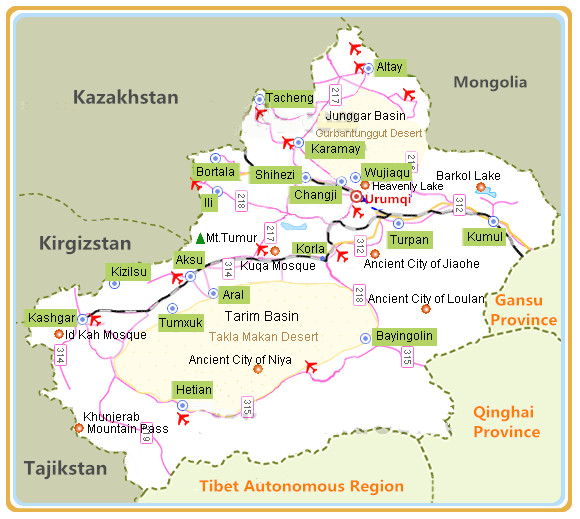 Hami, also called Kumul, is regarded as the door to enter Xinjiang Uygur Autonomous Region, the inland of China.Located in the east of Xinjiang Uygur Autonomous Region,Hami City is an important city on the ancient Silk Road and a renowned production base of Hami melon.In Hami, there are 21 nationalities in Hami, including Uygur, Han, Hui and Kazak Ethnic Groups.
​Facts of Hami
Chinese Name: 哈密 (hā mì)
Population
: 541,800
Area
: 153,000 square kilometers (57,915 square miles)
Nationalities
: Han, Uygur, Kazak, Hui
Administrative Division
: 1 autonomous county (Barkol Kazak Autonomous County); 1 county (Araturuk); 1 city (Kumul)
---
History of Hami
Kumul or Hami Prefecture was called Yiwu throughout the Han Dynasty (206BC-220AD), and Yizhou during the Tang Dynasty (618-907). It is believed that the county was initially established in the year 327, during the Eastern Jin Dynasty. After the Ming Dynasty (1368-1644), it gained its present name - Hami, also Kumul.
---
What to see in Hami ?
Tianshan Mountain crossing over Hami area, two wildly different zones were thus formed. Hami also has rich biological resources. Owing to its long history, rich culture and strong ethnic custom, the human, historical and natural attractions of Hami spread all over Hami.The main attractions of Hami include Mingsha Mountain, Strange Stone Mountain, Balikun Lake, Huiwang Tombs, White Stone Scenic Spot, Tianshan Temple, Kaerlike Glacier, Hami Museum, etc. Tourism has become the most potential industry of Hami already. Here list top attractions in Hami.
| | | |
| --- | --- | --- |
| | | |
| Hami Museum | Barkol Lake | Xinjiang Devil City |
| | | |
| White Stone Scenic Spot | Balikun Grassland | Hami Id Kah Mosque |
---
When to visit Hami?
Located in the heart of Eurasia, Hami has a continental arid climate. It is dry and enjoys longtime sunshine. Tianshan Mountain runs through it from east to west and cause a contrast in climate and landform between north and south of Hami. The north side of Tianshan Mountain has vast grasslands with cool summer and snowy winter. The south side of the Tianshan Mountain is a basin and the hometown of hami melon and Chinese dates with acrid climate and abundant sunshine. Hami has a clear distinction between four seasons and considerable temperature variation between day and night.
With typical temperate continental dry climate, Hami has different temperature between day and night. There is even an exaggeration that you people wear fur-lined jacket in the morning while silk in the noon and keep warm by having fire in the evening. The sunshine in Hami is plenty, so Hami got the name Sunny Gorge. Fruits grow well in this region because of its climate.The best time to visit Hami is in July and August.
---
How to get to Hami ?
By Air : Located 12.5 km from the old city center of Hami, Haimi Airport has flights to Urumqi, Zhengzhou, Xi'an and flights to Korla and Dunhuang. Bus No.6 (CNY1.5, 20 minutes' drive) will bring you to railway station of Hami. A taxi into the city costs around CNY20.
By Train: The best way to Hami is by train. Hami is gateway city to Xinjiang Uygur Autonomous Region, so there are a number of trains going through Hami. Lanzhou - Xinjiang Railway links Hami with Turpan, Urumqi, Changji, and Shjihezi. In addition, There are trains to Beijing, Xi'an, Zhengzhou, Chongqing, Chengdu, Jinan, Lanzhou and other inland cities. Hami Railway Station is located on the Tianshan Beilu. Buses No.1, 3, 4, 5, 6, and 12 will get to there.
By Bus: Hami has an extensive highway network linking it with Gansu Province, Urumqi, inner Mongolia and its various districts. Hami Long-distance Bus Station is located on the junction of Guangchang Beilu and Jianguo Road. Buses No. 3, 5, 7, 8, 11, 12 will bring you there. There are regular buses to Urumqi, Jiuquan, Dunhuang, Turpan, Barkol, Yiwu and Mongolia so forth.
---
Hami Travel Tip
Dining in Hami: Foods in Hami are various. While visiting this city, travelers can not only enjoy Sichuan cuisine, Cantonese cuisine, western food and other delicacies, but also delicious dishes of ethnic flavour and the western region flavour in restaurants or food stands, such as mutton braised pancakes, crisp steamed buns, stewed mutton and so forth. Ethnic catering areas within Xi Heba enjoy great popularity. Restaurants in Hui town run by Uighur peasant family can process food brought by visitors. Night markets around the crossing are also popular. Besides, barbecues, meatball soup, mutton soup and fried noodles are all must-eat food in Hami.
Shopping in Hami: Local specilitis includes Hami Melon (哈密瓜), Chinese Date (哈密大枣)
The Hami melon is also called cucumis melo. About 1600 years ago, Hami melons were planted in Xinjiang. Up till now, there are around 180 types of the melon, among which crisp Hami melon with red flesh wins the most acclaim. It tastes so sweet and crisp that you cannot miss it if you stay in Hami.
Hami has a history of 2000 years of cultivating dates. In the Qing Dynasty (1616-1912), it was the tribute. Chinese date in Hami can be both eaten raw and cooked. It would be particularly tasty if it is added to porridge or eight-treasure rice pudding (steamed glutinous rice with bean paste, lotus seeds, preserved fruit, etc.). Chinese date in Hami is nutritious, rich in vitamin c and sugar. It is really out of the world!
Useful Telephone Numbers
Tourist Complaints: 0902-2251985
Weather Forecast: 121
Zip Code Inquiry: 184
Bank of China: 0902-2234543, 2234205 (Credit Card Departmet)
---