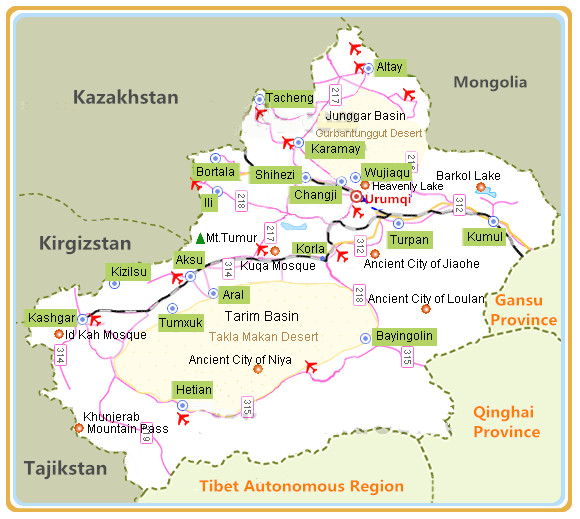 Urumqi or Urumchi,is the capital of Xinjiang Uygur Autonomous Region in northwest China.The city's name in Uighur means "fine pasture".Nowadays, as the capital city of the Xinjiang Uygur Autonomous Region, Urumqi includes five districts and the Urumqi County. Because of its particular position, it is a transportation hub for linking the south and north area of the Tianshan Mountains as well as connecting Xinjiang and central China.
Facts of Urumqi
Chinese Name: 乌鲁木齐(wū lǔ mù qí)
Location: in the northwest of Xinjiang Region
Area: 10,989 square kilometers
Administrative Divisions: 7 districts and 1 county
Population: 2.43 million people with 0.39 million non-permanent residents at the end of 2015
Time Zone: China Standard Time (UTC+8); Urumqi Time (two hours later than Beijing Time)
Language: Mandarin Chinese, Uygur
---
History of Urumqi
Although it is remote, its history can be traced back to the Neolithic Age. It used to be a residence of some northern nomadic people. From1755 onwards, the start of fast development got underway in this area and the city got the name "Urumqi". In 1884, it changed its name to "Dihua" and was regarded as a political center. From 1954, it reverted to its original name and is the capital city of Xinjiang.
---
What to see in Urumqi?
Urumqi City lies in the shadow of the lofty ice-capped Bogda Peak with vast Salt Lake to the east, the rolling pine-covered Southern Hill to the south, and the alternating fields and sand dunes of Zunggar Basin to the northwest.The city of Urumqi commands the northern end of a gap leading from the Tarim Basin into the Junggar (Dzungarian) Basin.Urumqi City is just like a piece of emerald embedded at the foot of the Tianshan Mountains. Here lists top attractions in Urumqi.
| | | |
| --- | --- | --- |
| | | |
| Urumqi Red Hill Park | Heavenly Lake | Mount Tianshan |
| | | |
| Xinjiang Museum | Shaanxi Grand Mosque | Xinjiang Confucius Temple |
| | | |
| Xinjiang International Grand Bazaar | Xinjiang Kanas Scenic Area | Xinjiang Southern Pastures |
---
When to visit Urumqi?
With shorter a spring and autumn but longer winter and summer, May to October is the golden season to visit it, when flowers are in full bloom and the fruits, like melons and grape, are ripe with fragrance.
The temperature in Urumqi fluctuates greatly between day and night. The weather of Urumqi is extremely dry due to its geographical location and continental climate. Spring and autumn are short while winter and summer are long. Remote as it is, the local inhabitants fondly call it 'Urumqi' which translates to mean graceful pasture.
Spring here comes comparatively late. Usually the northern suburb of Urumqi has the first touch of spring in late March, the downtown area some two weeks later and the southern suburb ten days later again. Summer is flowery and lush here and lasts typically for about 90 days in the northern suburb and about 60 days in the downtown area. The mild climate of summer makes Urumqi an ideal place for a summer holiday with the average downtown temperature of about 23

C (about 73.4

F). From late August, autumn comes, a golden season of fruit harvests. In October you will experience fluctuations between day and night temperatures. The weather of the long winter here is cold with the average temperature of around -15

C (about 5

F), but the scenery makes up for the cold at that time.
The best period for visiting Urumqi is from May to October when flowers are in full bloom and the melons and fruits smell sweet and are ripe for the picking. Dress warmly even when traveling in the hottest month (July and August) for the temperature differences between morning and night. Be sure to bring a sweater and trench coat in May, June, September and October. During the cold winter (November to March), you will need heavy winter wear.
---
How to get to Urumqi?
The two hours' time difference between Xinjiang and Beijing lead to local working time starting from 09:30 or 10:00.The temperature varies widely between day and night. Considering this, you're advised to set out on your travels around noon each day.As home to 49 minority ethnic groups, this graceful prairie city is an important stop along the ancient Silk Road, leading to Central Asia and even as far as Europe.
It is a hub linking China with East Asia and also Europe. As such Urumqi Airport plays a significant role for traveling to cities in China, East Asia, European countries and other destinations within Xinjiang. Long-distance buses to most attractions are available from the city. The Lanzhou-Urumqi high-speed train makes train trip to Xinjiang fast, convenient and comfortable.
---
Urumqi Travel Tips
Shopping in Urumqi

Dining in Urumqi

Nightlife in Urumqi