---
Hotan Travel Guide
---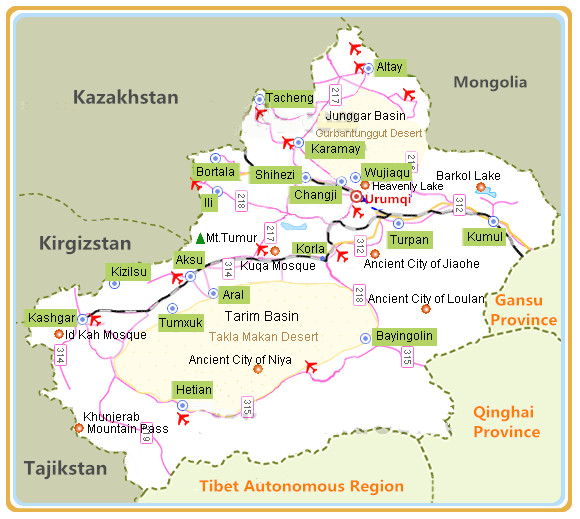 Hotan, also known as Hetian, is situated in the north of Kunlun Mountain and south of Taklamakan Desert in Tarim Basin of Xingjiang Region. It neighbors with Kashgar, Asku, Bayin'guoleng, Gansu, Qinghai and Tibet, India, PakistanHotan city is the political, economic, cultural and transportation centre of Hotan area with a total area of 466 square kilometers. Hotan is a Uygur-oriented multi-ethnic city where 19 nationalities (Uygur, Han, Hui, Kazak nationality, etc) live together. In ancient times, Khotian is one of the most important cities on the silk road
Facts of Hotan
English Name: Hotan or Hetian,Khotian
Chinese Name: 和田 hē tián
Total Area: 247,800 square kilometers
Population: 1,950,000
Zip Code: 848000
Area Code: 0903
Nationalities: Uygur, Hui, Han
Administrative Division: The region governs one city (Hetian City) and seven counties (Hetian, Pishan, Moyu, Luopu, Cele, Yutian, Minfeng).

History of Hotan
Hotan was where the states of Pishan, Yutian, Yumi, Qule, Jingjue and Shulu were established. Since 60BC during the West Han Dynasty, it has been recognized as Chinese territory. In 1883, this place was established as a prefecture to be supervised directly by the court, while in 1920, it became a prefecture. In history, this place was a town of military importance along the ancient Silk Road. It was also the crux of the four most important civilizations in the ancient world.
---
What to see in Hotan?
As a bustling center on the southern stretch of the ancient Silk Road, Hotan was one of the three thriving commercial centers in the history of Xinjiang. The ruins of many historical cultural sites still stand in desert in today's 'silk capital' Hotan, as a reminder of their brilliant past. In the main these are: Ancient City of Niya, Ancient City of Mallikurwatur, Ancient City of Yoktan. The Hetian Museum has a fine collection of cultural relics.
---
When to visit Hotan?
The weather of Hotan is dry, dusty and windy and the river discharges differ with the season. Steamed stuffed buns are everywhere in Xinjiang but most famous in Hotan. Besides, wet walnuts, roast whole lamb, mutton shashlik, tender corn meal are also renowned Hotan cuisines.
Located in the warm temperature zone, the area is dominated by a dry continental desert climate. It is hot in summer and not too cold in winter. The temperature has a great disparity between day and night. There are about 182~226 frost-free days a year. It has little rainfall and a high evaporation rate with an annual rainfall of 28.9 to 47.1 mm. The average annual temperature is from 11-12.1

C with an average sunshine time of 2470.4 to 2875.9 hours annually.
Best tIme to visit: August to September is the best period for visiting the area due to the beautiful scenery and nice weather.
---
How to get there?
By Air: Hotan Airport is located about 12km south of the city downtown area. It has 6 daily flights to Urumqi provided by Shanghai Airways, Air China, China Southern Airlines, Tianjin Airlines, Hainan Airlines, etc. The flight journey to Urumqi is about 1 hour and 50 minutes. Passengers can fly to Beijing via Urumqi.
By Train: There is a daily train service from the Hotan Railway Station to Urumqi.
By Bus: This area is served by China National Highway 315, which runs along the southern Tarim Basin from Ruoqiang to Kashgar, and the Trans-Taklamakan Desert Highway, which run north to Aksu. There are regular buses running daily to Yining, Kashgar, Aksu, Kolar, Turpan, Wushentala, etc.
City Transport: There are ten public bus lines traveling around the city. Passengers can take them easily to the passenger distributed centers. The taxi fares in the city are CNY5 (Daytime)/CNY7 (Nighttime) for the first three kilometers and then CNY1.3 per additional kilometer.
---
Hotan Travel Tips
1. Shopping in Hotan: Hetian has been known as capital of Jade and Hometown of Carpet for long from ancient times. Jade, carpet and silk are recognized as the three treasures of Hotan in the past while Uygur medicine, herba cistanches and donkey-hide gelatin has become the three treasures of Hotan now. The Hotan jade can be classified into four types according to its color: white jade, gray jade, black jade and yellow jade.
2. Local Highlights: Corban, Roza, Jade Cultural Festival, Yutian Music Dancing
---