Wulingyuan Scnic Area is situated in Wulingyuan District of of Zhangjiajie City. northwestern of China's Hunan Province.Covering 369 square meters. Wulingyuan Scenic Area, includes Suoxi Valley Nature Reserve, Tianzi Mountain Nature Reserve, Zhangjiajie National Forest Park and Yangjiajie Scenic Spot, is located 32 kilometers from urban Zhangjiajie.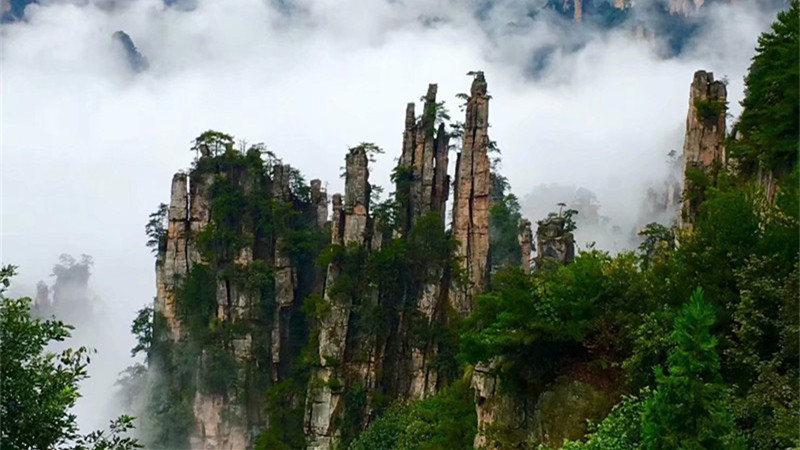 Wulingyuan Scenic Area has been described differently, such as, majestic, eccentric, tranquil, delicate and wild. The park features grotesque peaks, lucid brooks, abundant fauna and floras and hospitable climate. Wulingyuan Scenic Area sits on the cusp of two distinctly different crustal topographies: an uplifted, mountainous area and a depressed basin, or lake area, providing the visitor with spectacular natural landscapes from both of these topographical extremes.In 1992, Wulingyuan Scenic Area was recognized by UNESCO as a World Natural Heritage Site.
Climate
It belongs to the sub-tropical climate of Central Asia. Splendid mountains and luxuriant trees help form a favorable climate: warm in winter and cool in summer. The average temperature is 13ºC (55ºF), the highest 17ºC (62ºF ) while the lowest is 10ºC (50ºF) on average in winter. The charm of the park varies with the alternation of seasons; therefore, it attracts visitors all year round. Besides its pleasant climate, the environment and air quality also provide visitors a chance to breathe healthy air which is believed to be rich in negative oxygen. It is also believed that hypertension patient may have their blood pressure lowered if they stay in the park for a period of time. This is due to the fact that dust particles in the park are 88% lower and the air 10% mistier than outside.
Foliage
About 98% of the area is covered with vegetation. There are 720 species of the 102 families, including all the five most important floras, namely, the rose family, pulse family, grass family, composite family and orchid family. Some of these trees are rare and regarded as national treasure. For example, the Dove tree, known as living fossil, can be traced back as early as the Fourth Ice Age. The great variety of plants in the park takes up 82% of all the flora families in Hunan Province.
Animals
Zhangjiajie National Forest Park also boasts a variety of animals. Exuberant forests offer them ideal habitats to live in and procreate their own species. There are more than 149 kinds of chordate animals inhabitants in this park. Among them, 28 kinds are under national protection, amongst which, are the Golden Pheasant, Rhesus Monkey, Giant Salamander and Musk Deer. Visitors will be able to hear birds singing and see monkeys playing in the tree.
---
Tourism Map of Wulingyuan Scenic Area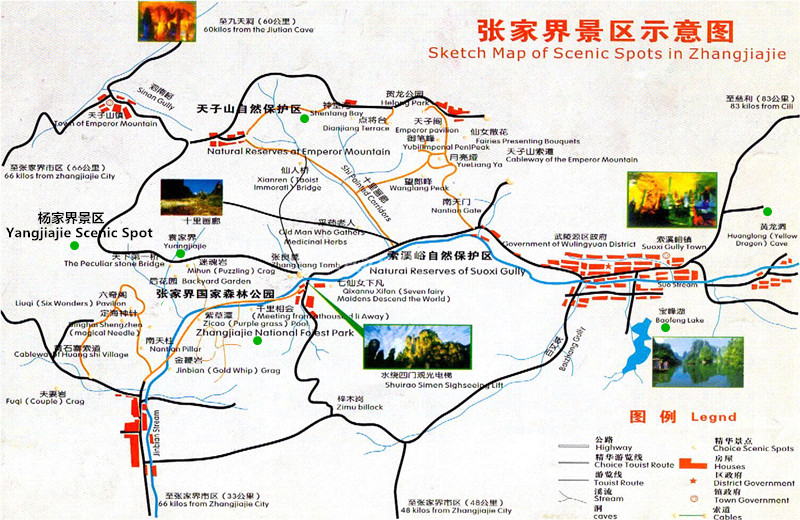 What to see ?
Spanning 369 square kilometers, Wulingyuan Scenic Area includes four subsections: Zhangjiajie National Forest Park, Suoxi Valley Nature Reserve, Tianzi Mountain Nature Reserve, and Yangjiajie Scenic Area
Travel Tips
Location: Wulingyuan Distrcity, Zhangjiajie City,Hunan Province
How to get there:
1. Entry from Suoxiyu of Wulingyuan District: Take bus from downtown Zhangjiajie to Suoxiyu after you get to Zhangjiajie City or take bus from Cili County to Suoxiyu after you reach Cili County.
2. Entry from Zhangjiajie National Forest Park: Take bus from downtown Zhangjiajie to Zhangjiajie National Forest Park.
3. Entry from Yangjiajie or Tianzishan Town: Take bus from downtown Zhangjiajie or Sangzhi County to Yangjiajie or Tianzishan Town.
Entrance Fee: CNY 251/ Person ( The price does not include all cable cars,elevators and trams in the scenic area) for three days trip.
Opening Hours: 07:00-18:00 every day.
Visiting Days: 2-3 Day