Zhangjiajie Glass Bridge, the most famous attraction in Zhangjiajie Grand Canyon, is located in Cili County,Zhangjiajie City, 22 km eastern away from
Wulingyuan Scenic Area
&
Zhangjiajie National Forest Park
, 62 km from
Tianmen Mountain
, 260 km from
Fenghuang Ancient Town
.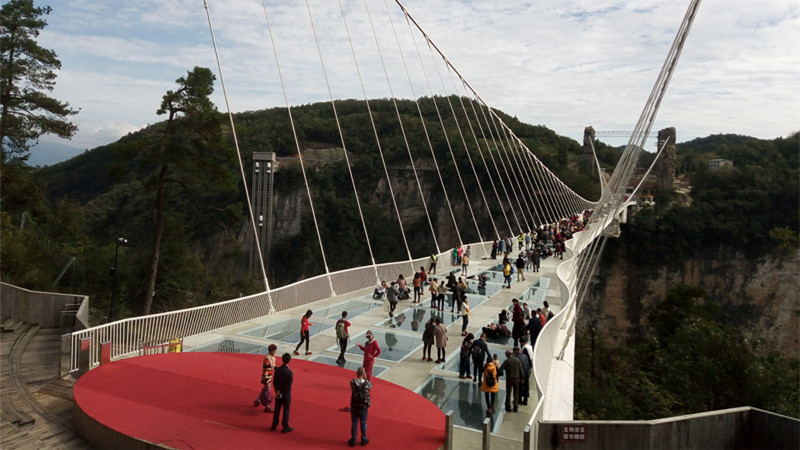 Zhangjiajie Grand Canyon Glass Bridge was completed to opened to tourists in 2016. This glass bridge is built on the peaks on both sides of the Zhangjiajie Grand Canyon. Across the Grand Canyon, Zhangjiajie Glass Bridge is about 400 meters above the valley bottom and about 370 meters in length. It is the world's tallest and longest glass bridge.At the center of the bridge, here is the highest bungee jumping in the world.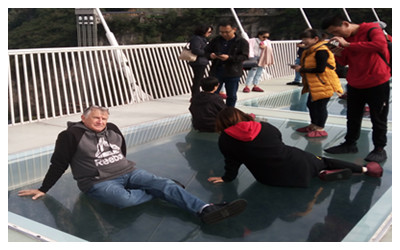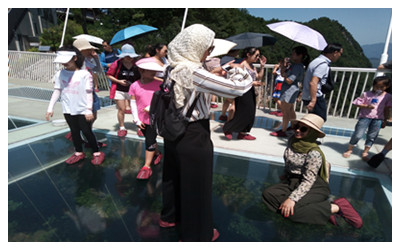 In 2018, Zhangjiajie Grand Canyon Glass Bridge won the Arthur Hayden Award at the International Bridge Conference, becoming the first bridge engineering project in Hunan to receive the highest international award.

Zhangjiajie Glass Bridge was regarded as the "12 Most Spectacular Bridges in the World" by CNN to be a bold one and admire the panoramic view of Zhangjiajie Grand Canyon with green forests, waterfalls, streams, etc.
---
Cross Zhangjiajie Grand Canyon Galss Bridge
Zhangjiajie Glass Bridge is getting a lot of attention from travelers. The bridge spans two steep cliffs, and uses transparent glass as its bottom.


Notice: Unlike the Glass Skywalk onTianmen Mountain, which is inserted on the mountain side with a height of 1,430meters, Zhangjiajie Grand Canyon Glass Bridge hangs over a valley. It provides a superb panorama of the entire grand canyon. Standing on it is like floating in the air. Come and have a try if you are brave enough. There is also a rope line nearby, which surely excites your nerves.
---
Travel Tips
Add: Zhangjiajie Grand Canyon, in Cili County of Zhangjiajie City, Hunan, China
Attraction Type: Canyons, Nature & Park, Mountains, Natural Sightseeing
Opening Time: 08:00-17:00
Entrance Fee: Then entrance tickets need to be booked in advance.
Zhangjiajie Grand Canyon with the Glass bridge CNY 245
The Glass Bridge: CNY151
Elevator from the valley to the Glass Bridge: CNY 35
Slideway: CNY 20
Cable car: CNY 30
Note: For those planning to visit the Glass Bridge, please book a ticket on our official website beforehand, because the ticket is not available on spot. Valid ID certificate like passport is required for purchasing the ticket.