Zhangjiajie Grand Canyon is located at Sanguansi Township of Cili County in Zhangjiajie City, 22 km eastern away from Wulingyuan Scenic Area & Zhangjiajie National Forest Park, 62 km from Tianmen Mountain, 260 km from Fenghuang Ancient Town.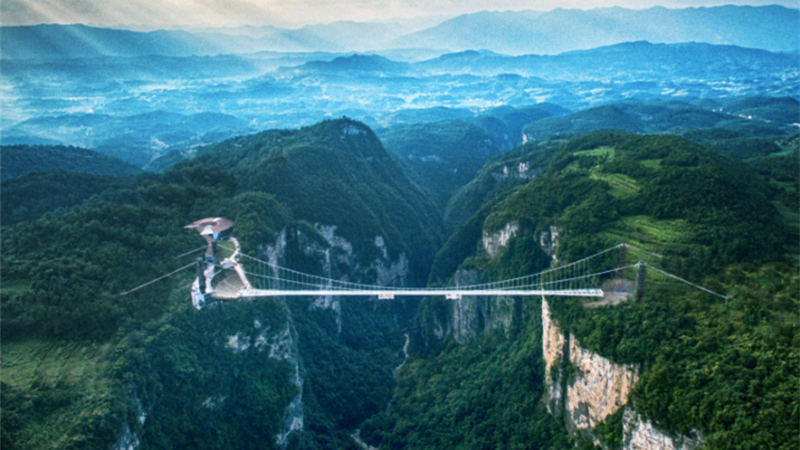 Zhangjiajie Grand Canyon is a "National AAAA Tourist Attraction" with eye-pleasing natural sceneries. In this tourist spot, you can even try the longawaited world longest and highest glass bridge that is regarded as the "12 Most Spectacular Bridges in the World" by CNN to be a bold one and admire the panoramic view of Zhangjiajie Grand Canyon with green forests, waterfalls, streams, etc.

Moreover, your eyes will be dizzled with the multiple types of waters and lush plants that form a heaven on earth and will drive all your annoyance far away.
---
What to see & Things to do
Zhangjiajie Grand Canyon is super famous for its longest and highest glass bridge in the world for people to have a bold and brand new try on the high position, and also, its charming sightseeing of forests, waterfalls, streams and so on are all very worth for your discovery!

Cross Zhangjiajie Grand Canyon Galss Bridge
Zhangjiajie Glass Bridge is getting a lot of attention from travelers. The bridge spans two steep cliffs, and uses transparent glass as its bottom. With a total length of 430 meters, suspended 300 meters above the valley floor, it's now the longest, highest glass-bottom bridge in the world.


Notice: Unlike the Glass Skywalk onTianmen Mountain, which is inserted on the mountain side with a height of 1,430meters, Zhangjiajie Grand Canyon Glass Bridge hangs over a valley. It provides a superb panorama of the entire grand canyon. Standing on it is like floating in the air. Come and have a try if you are brave enough. There is also a rope line nearby, which surely excites your nerves.
---
Hiking in Zhangjiajie Grand Canyon
Zhangjiajie Grand Canyon is a recently-developed natural wonderland that is famous for beautiful natural landscape and cultural sites. It incorporates green mountains, mild streams, intrigued caves, steep cliffs, and thick forest. Here is the museum of landform of Zhangjiajie. You can see the unique Karst topography scenery of the North Temperate Zone. For visitors who plan on a hiking trip in Zhangjiajie Grand Canyon, you may follow the route: A Strip of Sky - marble slide on the halfway – mountain trail or plank road – the reservoir for a boat trip. And it will take you over three hours hiking. Here lists main attractions in the canyon.
In the bottom of Zhangjiajie Grand Canyon is a clear and beautiful stream. Beside and along the stream are wooden trails for tourists to walk and hike. Visitor need to hike in the bottom of the Grand Canyon to admire its beauty. The hike for the start point to the end in the canyon usually takes 3 to 4 hours. It is a long walking time and requests good physical condition.
| | | |
| --- | --- | --- |
| | | |
| Grand Canyon Ropeway | Glass Bridge on Water | Grand Canyon Elevator |
At the end of the canyon, there is a reservoir. Ducks play on the reservoir, you may also see egrets flying past. So you need to take a short boat ride from the Upper Pier of the Cruise to the Down Pier. After you get off the boat, the hiking tour ends.
---
Travel Tips
Add: Sanguansi Township, in Cili County of Zhangjiajie City, Hunan, China
Attraction Type: Canyons, Nature & Park, Mountains, Natural Sightseeing
Opening Time: 08:00-17:00
Entrance Fee: Then entrance tickets need to be booked in advance.
Zhangjiajie Grand Canyon with the Glass bridge CNY 245
The Glass Bridge: CNY151
Elevator from the valley to the Glass Bridge: CNY 35
Slideway: CNY 20
Cable car: CNY 30
Note: For those planning to visit the Glass Bridge, please book a ticket on the official website beforehand, because the ticket is not available on spot. Valid ID certificate like passport is required for purchasing the ticket.